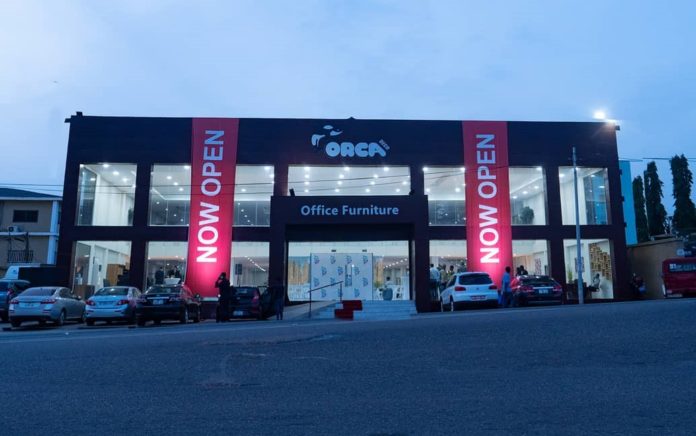 Ghana's leading retail home furniture, deco and office company, Orca Deco, has opened one of its major office showrooms along the Spintex Road in Accra.
The showroom is to help Orca Deco serve varied customers across the country.
Delivering her speech at the launching ceremony, Marketing Manager for Orca Deco, Emma Louise de Ricquebourg, explained that: "Opening a showroom this big and beautiful exclusively dedicated to an office shows how much Ghana as a country and Accra as a city have grown in the past 15 years".
She said with the showroom's size and range of furniture, the company will be able to provide for all segments of its target audience in the country.
She explained that Orca Deco offers full business solutions in office furniture, ranging from home offices and work stations to executive offices, boardrooms and even waiting-area furniture items.
"Whether you are creating a home office or you are a young entrepreneur looking for a small office to get your business started, or even a multinational company operating in this vibrant city of Accra, we can always meet your needs," she said.
Speaking on the exchange rate's effect on items, Mrs. de Ricquebourg noted that despite the fluctuating exchanging rate, Orca Deco has stable prices across all its retail shops in the country.
"We are mindful of the exchange rate instability in recent times; however, we have positioned ourselves well and maintained modest prices over a long period of time to meet the needs of our customers," she stated.
Mrs. de Ricquebourg also stated that although Orca was founded as a shop that sell household goods, the company was determined to expand based on the demands of its customers.
"Early in our story, we noticed a strong demand for office furniture and made it our mission to provide our customers with quality yet affordable office furniture, as we all see today," she said.
She added that with the different collections in office solutions, the business can promise that one will always find something to suit their taste and budget when shopping at Orca Office Furniture.
Orca Deco started operating in Ghana in 2003 with its main branch in Accra, on the Graphic Road. In 2005, it opened a branch in Asokwa, Kumasi. Later in 2012, the main showroom on the Spintex Road was opened. With 6,000sqm and 15,000 items to choose from, it is the biggest furniture and decoration showroom in Ghana. In 2015, Orca Deco became the exclusive distributor of Natuzzi and Alf Italia – two Italian brands specialised in high-end furniture.
As part of the company's services, Orca Deco has in place an asset finance scheme with SGSSB and ECOBANK that enables salaried workers and companies in Ghana to purchase consumer items and pay over a period of 12 months, with no interest or extra charges.