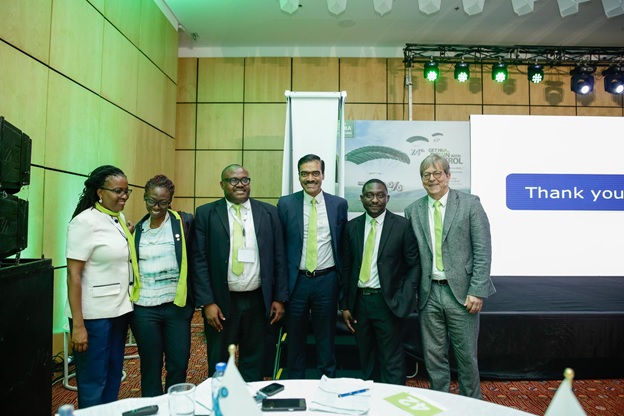 Novo Nordisk, a global healthcare company, has launched Insulin Degludec, a new-generation, once-daily basal insulin for the treatment of diabetes.
The product has an ultra-long duration of action, lasting beyond 42 hours and allows for flexibility in a day-to-day dosing time.
Speaking at the launch, Dr. Ernest Yorke, a leading Endocrinologist at the Korle-Bu Teaching Hospital, said there are an estimated 0.5 million adults between 20-79 living with diabetes in the country as at 2017. "This is a huge economic burden for the individual, their family and the nation," he said.
He added that the disease has a very low awareness and an estimated six out of 10 Ghanaians do not know their status on the disease.
The International Diabetes Federation estimated 9,800 deaths due to diabetes and diabetes- related complications in 2017 in Ghana. However, with the introduction of Insulin Degludec, clinicians now have an innovative product to make a meaningful contribution in the drive to change the narrative of diabetes in Ghana.
According to Professor Roger Lehmann, Director Diabetology and Islet Transplantation Programme, University Hospital, Zurich, Switzerland, maintaining good blood glucose control with insulin treatment can be challenging for healthcare professionals and patients due to concerns over hypoglycaemia.
He added, severe hypoglycaemia may cause coma which eventually lead to death. "Nocturnal hypoglycaemia is real concern for people with diabetes as it is often unpredictable and unrecognized," he said.
Vinay Ransiwal, General Manager, Middle Africa, Novo Nordisk, said Novo Nordisk is keen on providing the best healthcare and treatment to people with diabetes. "Our strategic partnership with relevant stakeholders in the health sector involves educating patients, training healthcare professionals and strengthening healthcare systems," he said.
He added that, in Africa, under the Changing Diabetes' initiative, the company has run several projects such as the 'Changing Diabetes in Children (CDiC), and the Base of the Pyramid (BoP), project.
The BoP project, which is currently running in Ghana, is intended to reach about 120,000 patients. "We also have medical education and monitoring programmes such as the Buddy Doctor Initiative where senior consultants Endocrinologists and Diabetologists train General Practitioners (GPs) on how to manage diabetes," he said.
Insulin Degludec received its first regulatory approval in September 2012 and has since been approved in more than 80 countries globally and now commercially available in more than 50 countries.