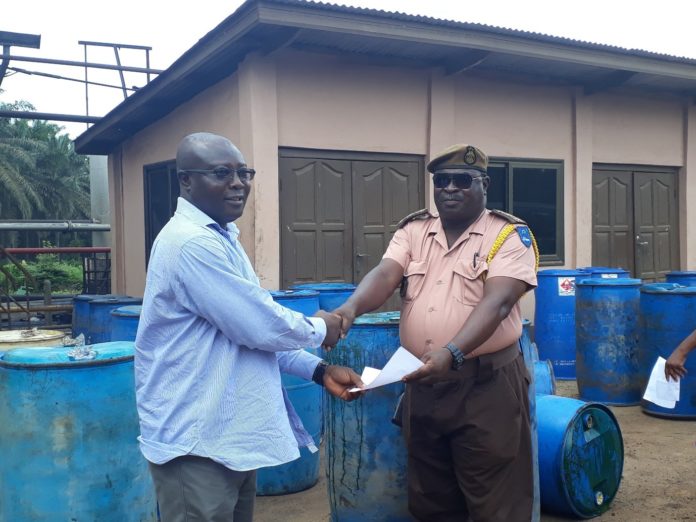 Norpalm Ghana Limited has donated 38 drums (two per institution) to 19 educational institutions in the Western Region in support of their school feeding programmes.
The palm oil distribution, which is the ninth edition and forms part of the company's corporate social responsibility – and also complement the efforts of government, amounted to GH¢37,000.
Mr. Joseph Akwasi Bawuah, Human Resource and Administrative Manager of Norplam Ghana Limited, at a brief ceremony at Ewusiejoe in the Ahanta West district of the Western Region explained: "We began this journey in 2008 during the height of Ghana's school feeding programme, which we thought was a laudable policy.
"We started with 12 institutions within our jurisdiction and included four institutions that were buying palm oil from us; and then we added two institutions, and lately we have included another four institutions," he said.
He mentioned the beneficiary institutions as Fijai SHS, Ghana Secondary Technical School (GSTS), Sekondi SHS, St. John's SHS, Archbishop Porter SHS, St. Mary's SHS, Badu Bonsoe SHS and Ahantaman SHS.
The rest, he said, are Effia Nkwanta Midwifery Training Institute, Tarkwa Hospital Midwifery Training College, Shama SHS, Tarkwa SHS, Adiembra SHS, Abora Vocational Institute, Twin City Special School, as well as Ekuase Prisons and Mpohor SHS.
According to him, this year's donation of scholarships to brilliant but needy students could not come on – "because the last batch of beneficiaries will be completing by middle of this year, and those remaining will be Free SHS students; therefore, we need to think through with the committee to see the way forward".
Mr. Bawuah pointed out that beneficiaries of the scholarship scheme have gained admission to university and other tertiary institutions to pursue courses that will shape their future.
He announced that beyond the donation of palm oil, the company in collaboration with Ghana Skills Development Initiative (GSDI) is seriously planning to offer third-party contract staff of the company the opportunity to be trained and certified as harvesters, pruners, while also offering others the opportunity to be trained in competency-based skills to become Certified Workplace Trainers.
"If the programme becomes successful, the company will scale it down to other unemployed youth within our catchment area, so that they will be able to earn a living on their own," he added.
Nana Etsin Kofi II, Divisional Chief of Ahanta-Aboade Traditional Area, noted that that the company has been supporting communities in its operational area in diverse ways.
He urged companies operating within the Ahanta West district to emulate their example, as well as support the unemployed youth with skills development.
He advised the beneficiary institutions to use the palm oil for its intended purpose.
Madam Alberta Rachel Croffie Quayson, Headmistress of Mpohor Senior High School, on behalf of the beneficiary institutions expressed gratitude to Norplam Ghana Limited.
She said palm oil has so much nutritional value, and encouraged parents and guardians to use palm oil in cooking.
She also urged beneficiary institutions not to divert the palm oil to their various homes, but instead use it for the school feeding programme.