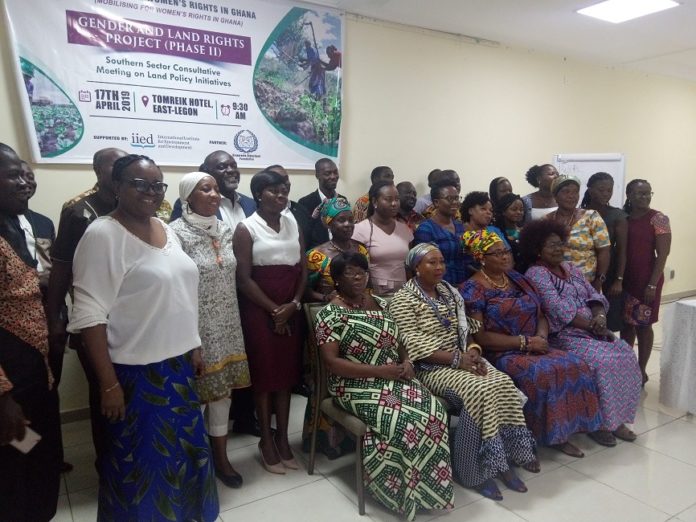 Network For Women's Right in Ghana (NETRIGHT), a network of civil society organisations (CSOs) and individuals who have a clear interest in mobilising for women's rights in Ghana to bring a gender perspective to national processes has held a consultative meeting to push for gender equitable reforms in land governance.
The aim of the consultation meeting is to build a collective and stronger voice of women and other critical stakeholders to advocate for the passage of the Land Bill currently at guidelines finalisation stage which addresses gender equality issues.
Land governance in Ghana is going through reforms but faces some significant challenges relating to empowering customary land administration whilst improving downwards accountability of traditional authorities and addressing gender and socio-economic inequalities, including the provision of leases to investors for large-scale agricultural projects and other land based investments.
The lands Commission has also developed guidelines on large scale land acquisition to regulate land acquisition in Ghana.
Principal Officer, Land Administration and Research Unit, Lands Commission, Dr. Stanislaus Adiaba indicated that there are over 166 laws governing land usage and policies which seeks to regulate land access among others. In view of that a Land Bill which seeks to consolidate all these laws is being considered and is currently at the guideline finalisation stage.
"The guidelines started as an in-house project in 2012 but at a point in time, we realized that we need to broaden the scope and seek for inputs from CSOs and other stakeholders in the lands sector. The guidelines will be finalised this year and then moved to the next stage of the process.
… With the guidelines in place, when the necessary sensitisation and community engagement are done properly, the issue of Land litigation and land guards menace experienced in Accra will be curb from resurfacing in the other regions," he said.
The key component of the guidelines include: community awareness of their rights, how to safeguard them and get duely compensated for when these rights are overridden by investors; investors awareness of issues on the ground, procedures to follow and the due diligence to take when trying to acquire large scale land for investment.
Others also include; engagement with civil society organisations and other stakeholders to know the key components in order to be able to help defend the communities and minority groups when the need arises in order to promote national development.
Land Administration Expert, Dr. Benjamin Quaye, in a presentation explained that the objective of the gender provisions in the Land Bill is to protect women and other vulnerable people's interest in land as well as to ensure that International best practices on gender and land rights administration are met.
"In the Land Bill, under Clause 11 (Prohibition of Discriminatory Practices), the bill prohibites Discriminatory practices in relation to land in accordance with Article 17 of the 1992 Constitution. Discrimination either based on the grounds of gender, race, colour, religion, creed, social or economic status."
"Clause 35 (Conveyance of Property), also provides for gender empowerment by requiring that a conveyance of property for valuable consideration during marriage shall be in the name of spouses," he indicated.
Programme Manager, NETRIGHT, Patricia Blankson Akakpo, stated that her outfit in partnership with the Grassroots Sisterhood Foundation (GSF) is implementing phase II of its project on "Gender and Land Rights" under the International Institute for Environment and Development (IIED).
"The phase II of the project seeks to highlight and support initiatives that enhance rural women's participation in land related decisions as well as strengthen their control over their livelihood options in the context of increasing commercial pressure on land and natural resources in Ghana"
"Today, we held the southern sector consultative meeting on national land policy initiatives with a cross-section of key stakeholders such as gender and land-related CSOs, land sector agencies and institutions, traditional leaders, media and other critical actors.
"We want to keep pushing and lobbying the necessary authorities for the bill to be passed. We also want to make sure that the gender provisions are maintained and given the needed attention required," she indicated.
According to the Lands Commission, large scale land refers to land transactions that is about 50 acres or 20.23 hectares and above.
Dr. Adiaba, also encouraged the CSOs and NGOs to strengthen the capacities of traditional authorities to be able to adequately represent the wider interest of their communities in the land negotiation process, sensitise communities on the need to document their land rights to avert losing them during large scale land acquisition, and to promote the establishment of Community Land Management Committee ( CLMC).
Participants of the Consultation Meeting in a group pose