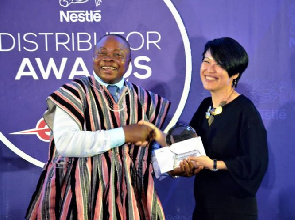 Nestlé Ghana has rewarded distributors across the country for an outstanding performance in the year 2018.
The awards were in categories such as brand champion, growth, consistency, highest turnover and best distributor.
"Our business in Ghana recorded a strong growth of 12.8%, in which many of our distributors also enjoyed this growth momentum," according to Philomena Tan, Managing Director of Nestlé Ghana.
"In order to achieve this growth, the business took some pressure on our bottom line due to the volatile economic conditions in 2018; our consumers are at the heart of everything we do in Nestlé," she added.
She said the company derives value not only from its day to day business, but also through the impact it makes in the lives of individuals and families living in the communities where it operates.
"In order to ensure that our efforts are sustainable, Nestlé believes in the principle of creating shared value along our entire value chain; from the farmer who provides the raw materials, to our production site where we focus on safety, quality and product innovation, to you our distributors who play a critical role in ensuring route to market," the Managing Director of Nestlé said.
She said for 62 years the company has been committed to building healthy, happy lives for individuals and families, through the provision of healthier and tastier food choices which complement the nutritional needs for growth and well-being of individuals and families.
"Our products, for example, are fortified with iron, vitamin C and other micro-nutrients. This, is our contribution to dealing with the high levels of iron-deficiency leading to anaemia in our population," she pointed out.
According to her, the 2014 Ghana Demographic and Health Survey indicates that two-thirds of children are anaemic. It is most common in Northern Region with a rate of 82%, and least common in Ashanti Region at a rate of 54%.
Also, she said, 42% of women are reported to be anaemic: "So, we have fortified our products and we are continuously renovating and innovating to bring high quality and affordable nutrition to our consumers," she added.
"We are also committed to building resilient and inclusive communities and caring for the environment through our business practices," she said.
Madam Tan said: "Through our Creating Shared Value Initiatives, such as the Nestlé Cocoa Plan, we helped build the capacity of over 17,000 Cocoa farmers by bringing in specialists to train them on sustainable farming practices. Through the GhanaWASH Project, we provided over 52,000 people living in farming communities with clean water and sanitary facilities. Now, we know that sponsorship has its limitations.
"We believe that when we create a viable business opportunity, these initiatives will be sustainable; our theme for 2019 is 'Delivering Growth', she said.
She concluded that: "With determination, discipline and commitment, I am convinced that together we will continue to win and scale new heights for our businesses."
BenBetty Enterprise, located at Tarkwa in the Western Region of Ghana, won the overall Best Distributor award for outstanding sales achievement, good finance, and infrastructure (ware-housing, vans) and manpower management.
The award for first runner-up went to Ransbet Supplies 2003 Limited, while Ofram Enterprise received the award for second runner-up. Other awardees received various prizes.