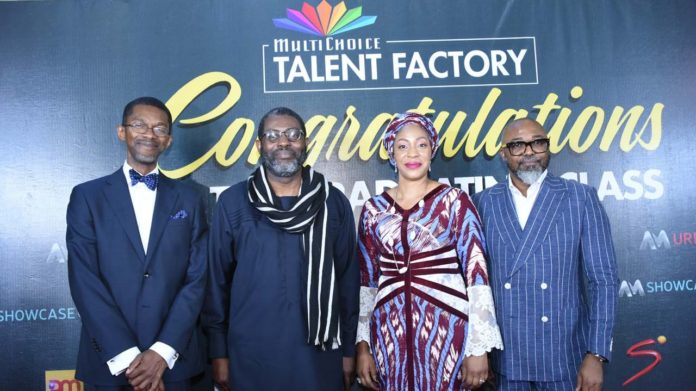 The first graduates of the Multichoice Talent Factory (MTF) West Africa, a 12-month fully funded intensive training programmed designed to improve the technical and professional value chain in Africa' film and television industry, have successfully passed out with the equivalent of academic diplomas in filmmaking.
Launched in May, 2018 to create a pipeline of skilled and talented movie professionals that produce high quality content that resonates with African viewers, the West African version of the continent-wide programme saw a total of 20 graduates, 16 from Nigeria and 4 from Ghana.
They received certificates in disciplines such as directing, cinematography, editing, writing, custom design, and others at a beautiful ceremony at the School of Media and Communication, Pan-Atlantic University, in Lagos, Nigeria, the West African academic partner to Multichoice Africa.
The four are Asamoah Kobby Edmund, who graduated in Cinematography and also took home the Bollywood Internship Award for emerging one of the best students; Henry Konadu Denkyira who graduated in Cinematography, Irene Dumevi Yaamoakoa who graduated as a producer and Patience Esiawonam Adisenu, who passed out as a scriptwriter and director.
John Ugbe, Chief Executive Officer, MultiChoice Nigeria, noted that the 20 graduates from both Nigeria and Ghana were chosen from over 3,000 entries in 2018. He commended the students, saying that their passion, dedication and willingness to learn helped them create magical moments throughout the course of the training and successfully complete the programme.
"From the first meeting with them at the welcome breakfast till now, I have watched them grow into confident and promising film and TV professionals; soaking up knowledge and skill from our esteemed Academy Director – Femi Odugbemi – and other leading industry experts who have tutored them. Their story that of growth," he said.
Mr. Ugbe urged the graduates to maintain the personal attributes which helped them preserve throughout the programme. He also encouraged them to use the skills learned to create a positive impact in the African film industry.
"Today, as you prepare to positively impact the creative industry and change it one story at a time, remember – you are now part of a small but growing class of young, creative professionals equipped to tell Africa's stories through authentic lenses while recognising and embracing her growth possibilities and opportunities. You were not built to be an extra in this story nor were you built to break. You are the power that is integral to changing and owning our collective narrative."
Femi Odugbemi, the director of the academy, stated that the graduates have been imparted with the necessary skills needed to succeed at the topmost level in the film industry, adding that the training was a landmark programme for both the students and the movie industry and commended the organisers for the initiative.
Lagos State Commissioner for Tourism, Arts and Culture, Shulamite Olofunke Adebole, expressed her excitement about the Talent Factory initiative because it falls within what the government has planned for the entertainment industry in Nigeria. She said the government was prepared to support and encourage such initiatives.
Dr. Ikechukwu Obiaya, Dean of the School of Media and Communications, Pan-Atlantic University, expressed his excitement to be a part of a game-changing initiative. "We know the challenges of quality continent and this programme will help bridge the gap. It has been a fantastic journey working with Multichoice and we look forward to doing more."
Training, he said, is crucial to the survival of the ever growing film industry and so programmes like the Multichoice Talent Factory must be supported and encouraged to stay and help more African creatives.
Some of the students won scholarships for their remarkable performance during the duration of the training. Gilbert Bassey, a 26-year-old Nigerian, won a scholarship to enhance his skills at world-renowned New York Film Academy College of Visual & Performing Arts (NYFA).
Edmund Asamoah won an internship with Nihilent Limited, a Bollywood production; Joseph Adeniyi and Metong Minwon were rewarded with an AVID Media Composer License (in perpetuity) for the most-promising film video editor and an AVID Pro Tools License (in perpetuity) and dongle for the most-promising sound engineer respectively by Jasco Broadcast Solutions.
The CEO Award for Entrepreneurship was awarded to two 24-year-olds, Kemi Adeyemi and Salma Saliu, for exhibiting great entrepreneurial skills during the year. They received US$1,000 each for their exploits.
As part of their coursework, the graduates were mandated to produce films for their assessment. The first, Life of Bim, will air on Africa Magic Showcase (DStv channel 151) on September 21, while the other, Dreamchaser, will air on 28 September on the same station.