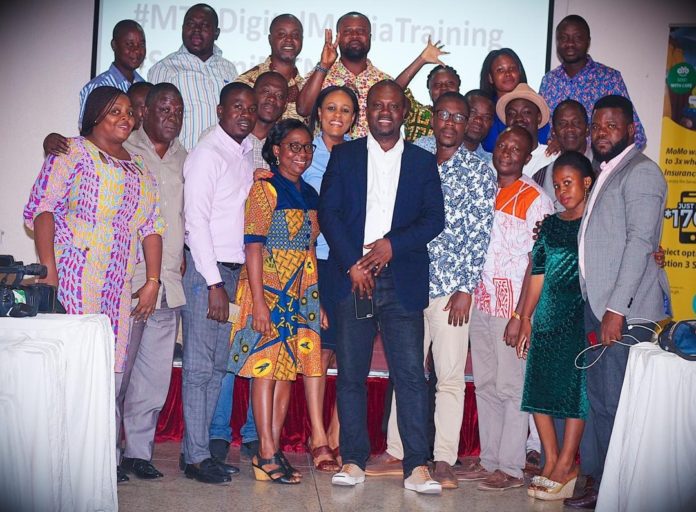 As part of MTN Ghana's digital transformation agenda, aimed at repositioning the company and society at large in the fast-growing global technological-driven environment, the company has organised a training workshop for selected journalists in Sunyani.
As critical stakeholders of the telecommunication giant, the digital media training was to bring the journalists up to speed with the revolution in the technological and digital media space, especially how to monetise digital contents and channels.
The Corporate Communications Manager-MTN, Efua Falconer, in an interview with B&FT said: "There's so much happening in the digital and telephony space, and we feel that as journalists it is important to know and understand these developments now around.
"Every stakeholder is of important to MTN; if we don't educate you about it, who is going to use our services? Who's going to benefit from all the huge digital investments that we are making? If journalists are therefore abreast with information, they will be in a better position to communicate well to the general public."
A Social Media Technologist, Maximus Ametorgoh, in a presentation observed that the era when the media relied solely on content for survival is over – indicating that the traditional media must endeavour to monetise contents by leveraging digitalisation.
He said: "The whole ideal of developing content and interacting with advertising is dead. Since advertisement is not your core content, you are limited with slots or space. The media must adopt the subscription model, pay-per-view or pay-walling to survive in the dynamics of digital competition".
He said social media is increasingly become the preferred media channel where patrons consume contents and share their views and opinions, hence the need for traditional media to tap their live support from social media. He indicated that of the country's estimated population of 30 million, about ten million are Internet users – and 60 percent of the Internet users are social media users.
About 90 percent of social media users access them via mobile devices, therefore it is imperative for media houses to develop friendly mobile apps to attract the growing number of social media users.