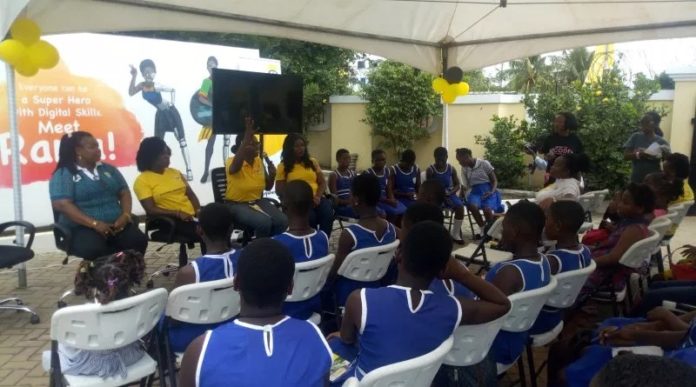 Leading telecommunication service provider MTN, in partnership with Soronko Academy, has held an ICT mentorship session for some female pupils of the La Bawaleshie Presby Junior High School.
The initiative was organised to mark this year's 'Girls in ICT Day', and meant to whip-up their interest in ICT and motivate them to consider careers in ICT as they grow up.
Speaking to the media at the event, Senior Manager-MFS Operations and Service Delivery, Ruth Baidoo, explained that that the day was set by the International Telecommunications Union (ITU) to encourage girls into ICT and also break the stigmatisation and paranoia when it comes to girls and technology.
"We realised that in the world over there is a lot of emphasis on girls, because in the past there has been some deficit in terms of the women who take up careers or roles in technology; so, we are here to help bridge the gap that exists between men and women who are into technology," she said.
The pupils engaged with a five-member team of female technocrats and engineers from MTN Ghana, who shared inspiring career stories in the technology industry. The technocrats encouraged the pupils to avail and challenge themselves in the ICT sector.
The pupils were also taken through an innovation challenge, android app development, and were finally presented with certificates after the workshop.
Senior Manager at MTN Ghana Foundation responsible for sustainable and social impact, Georgina Fiagbenu, said considering the few numbers of women in ICT, the foundation thinks it is important to get girls to be motivated to do ICT or technology-related courses.
She disclosed that with less than 3 percent of girls in technology-related careers, MTN Ghana Foundation and Soronko Academy want to change the story – thus the need to get more girls to think about technology careers.
Delphina Agyare, Project Manager at Soronko Academy, also called on girls out there to take advantage of technology and dare to do challenging things, since this will help them grow.
"The subject of ICT is interesting but challenging. There is a technology component in every field. Take advantage of it and so we can make great impact in our lives, community and the world," she added.
International Girls in ICT Day is celebrated on the fourth Thursday of April every year.
The general theme for this year's edition is 'Expand Horizons, Change Attitudes', with the sub theme being 'What I wished I knew at age 16'.