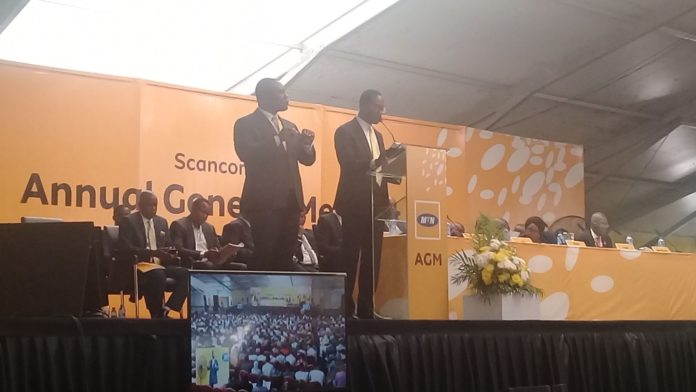 MTN Ghana has signalled its intent to purchase the remaining 4G spectrum yet to be auctioned by the National Communications Authority (NCA).
Selorm Adadevor, Chief Executive Officer of MTN Ghana, speaking at the company's maiden Annual General Meeting in Accra said the company is ready to procure the remaining spectrum even though the NCA has not officially invited interested companies.
He said MTN was initially excluded from purchasing any of the three (2 x 5) megahertz spectrums that the NCA sold last year, but the purchase should improve its quality of service delivery and expand its network operations.
Speaking about how much the company is willing to pay for the spectrum, Mr. Adadevor said that the company expects fair pricing from the NCA. "We can't really comment on what price we are willing to pay. All we can say is that we need fair pricing when it comes to spectrum…until an offer comes out, we will not be able to pre-determine what we may be willing to pay for," he said.
The financial performance
Ishmael Yamson, Chairman of the company, said it had recorded a strong financial performance in 2018 – with profit before tax increasing by 16.5 percent to GH¢1.6billion, while earnings per share was GH¢0.067.
He said the company's performance was evidence of the company's well-organised execution of the strategy for maintaining a strong balance sheet, improving profitability and driving operational efficiencies.
Mr. Yamson also explained that at the close of 2018 the company had a market capitalisation of GH¢9.7billion, making it the third-largest listed company on the Ghana Stock Exchange.
Speaking on dividends, Mr. Yamson said the board acknowledged an interim dividend of 2 pesewas per share after reviewing the company's third quarter performance. "After reviewing the full-year performance of the company in 2018, the board will be recommending a final dividend of 3 pesewas on ordinary shares – bringing total dividend for the year to 5 pesewas per share, or 81.2 percent of profit after tax," he added.
On the share price performance, he said the company's share price recorded a 5.33 percent price gain for the year ended December 31, 2018; with a 52-week high of GH¢0.93 and low of GH¢0.75, and share price at the end of 2018 was GH¢0.79.
Mr. Yamson also assured the public that the company will remain resolute in upholding high standards to drive sustainable growth. "It will continue to entrench a culture of 'no tolerance for corruption' through its healthy conduct management framework," he added.
He said the company has invested in relevant tools needed to provide a combined approach to the management of governance, risk and compliance across the business space.