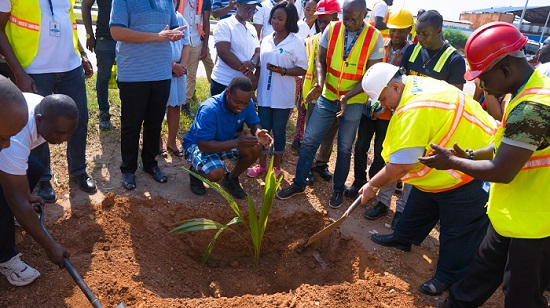 Meridian Ports Services Limited (MPS) continues its commitment to protecting the environment. Two years ago, MPS embarked on a tree planting exercise along the Tema Beach Road toward the site for the Tema Port Expansion Project.
The exercise was named 'Planting the way to the new port facility', and the main objective was contributing to sustainability of the environment and beautifying the environment. Back then, the CEO of MPS, Mohamed Samara, announced that this initiative was to plant 400 coconut seedlings (one tree by each employee).
Now that MPS has relocated to the new Terminal 3, this initiative was repeated. Hundreds of staff members at MPS and its main contractors CHEC, EIFFAGE as well as fisherfolk from Sakumono joined the exercise on Saturday 16th November and again on 30th of November 2019 to plant a total of 500 new trees.
Apart from sustaining life, Mr. Samara informed the younger generation of staff at MPS that 27 years ago the Sakumono Beach Road looked like a place from heaven, with coconut trees lining all along the beach. "Despite the painful fact that the global warming and coastline erosion wiped out the coconut trees two decades ago, we are determined today to restore that heavenly scene so our children and the next generations can enjoy the beauty we have seen," Mr. Samara said.
The Chairman of MPS, Dr. Edmund Osei Tutu Prempeh, said MPS believes in the sustainability of life, and planting a tree is one of the best ways to preserve life. Dr. Prempeh shared his experience of planting tens of thousands of various species of trees, and encouraged every member of staff to name a tree after himself and tell his family about it. "Grow, Grow, Grow, in the name of the Lord," prayed Dr. Prempeh as he was planting his tree.
MPS staff celebrated the occasion as it coincided with the partial opening of a third new berth and arrival of the largest vessel ever to enter Ghanaian waters.