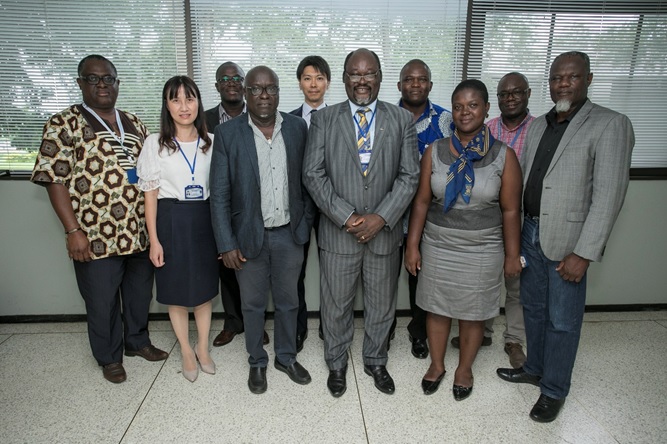 In June 2018, Noguchi Memorial Institute for Medical Research (NMIMR), University of Ghana through the AMED J-GRID Project received its first ever corporate donation in Ghana of US$250,000 from MODEC, Inc. and its Fund Partners namely Mitsui & Co., Mitsui O.S.K. Lines, Ltd. (MOL) and Marubeni Corporation towards health science research. AMED J-Grid Project is a research collaboration between NMIMR and Tokyo Medical and Dental University (TMDU) for infectious diseases.
The mission and mandate of NMIMR which is to ensure overall global health security especially in terms of emerging/re-emerging disease and endemic tropical diseases, build capacity and conduct specialized diagnosis, ties in with vision of Ghana to become a prosperous developed country as it (NMIMR) advances heath development for poverty reduction.
It is for this reason that MODEC and its Fund Partners believe that supporting the work of NMIMR and medical research in Ghana aligns with their aim of improving the lives of Ghanaians, building healthier communities for development and furthering the collaboration between Japan and Ghana.
According to Prof. Abraham Kwabena Anang, Director NMIMR, University of Ghana, the initial donation of US$250,000 provided a great opportunity to focus on three (3) key joint project initiatives with AMED J-GRID, namely; Research into Dengue Fever and Chikungunya (viral infections), Rotavirus Diarrhea and Antimicrobial Resistance (determining the status of antibiotic usage and the potential roles of microbe resistance).
"We leveraged the funding into strengthening the projects in terms of materials and reagents, some equipment and to facilitate capacity building (i.e. training of young researchers in collaboration with TMDU)," he explained.
Key Findings
Some significant findings have been made in the past year with the support of the donation made by MODEC and its Fund Partners.
Dengue and Chikungunya Fever –It was discovered that Dengue fever forms part of unexplained fevers in Ghana, though at low levels. The research has also unearthed a significant finding that the Ghanaian Aedes Mosquito is more refractory i.e. it does not easily take and transmit viral infections thereby preventing the spread of certain viruses or epidemics. This key finding presents an opportunity to further investigate what advantages can be gained from this refractoriness for disease control. It was also found that Chikungunya (a viral disease) occasionally presents in the country.
Rotavirus Diarrhea – NMIMR has led the building of evidence-based data for the advocacy and introduction of Rotavirus vaccines for the prevention and control of Severe Rotavirus Diarrhea in children since 2012. The donated funds were used to conduct diarrhea surveillance in children and to monitor, identify and isolate wild strains of Rotaviruses that are beginning to reemerge.
Antimicrobial Resistance –Many hospitals which have not been able to establish proper infection control, become places where patients can acquire new infections. Occasionally some of these bacteria are found to be resistant bacteria (untreatable). The research looked at potential resistance in several locations/hospitals across the country. It was discovered that there is already microbial resistance to second and even third level antibiotics among the patient samples collected. Further research will be conducted to investigate the genetic basis for the resistance and to find solutions.
Modec and its fund partners commit a second installment of US$250,000
Following the satisfactory report on the utilisation and successful outcomes of the initial donation, MODEC and its Fund Partners (Mitsui, Marubeni & MOL) have this year made a second installment of another US$250,000 (two hundred and fifty thousand US dollars) to NMIMR through the AMED J-GRID project to for the continuation of critical health science research in Ghana.
This second installment by the Fund Partners brings the total support for the research project to half a million dollars ($500,000) since 2018, making it the largest and only corporate donation received by the project to date in Ghana.
Commenting on the second donation, Prof. George Armah, Senior Research Fellow at NMIMR, who is credited for his work in clinical trials, advocacy and introduction of Rotavirus vaccines in Ghana (2012) stated that "The second installment of US250,000 by the Fund Partners will be used to further investigate these findings in order to unearth solutions for better health security."
He commended the MODEC, Mitsui, Marubeni and MOL for the significant support and noted that, in addition the funds will also be utilised to expand surveillance sites, bring new technology into the research, expand sample size and possibly develop new diagnostic methods.
Kwabena Kwadade, Legal and Compliance Manager, MODEC Production Services Ghana JV Ltd. (a subsidiary of MODEC) expressed the satisfaction of the Fund Partners at the important work that the NMIMR and TMDU research teams were doing to ensure health security for Ghana and the continent at large.
The Fund Partners are jointly carrying out a long-term charter business for FPSO Prof. John Evans Atta Mills, a Floating Production, Storage and Offloading (FPSO) vessel, deployed at the Tweneboa, Enyenra and Ntomme (TEN) fields offshore Ghana.