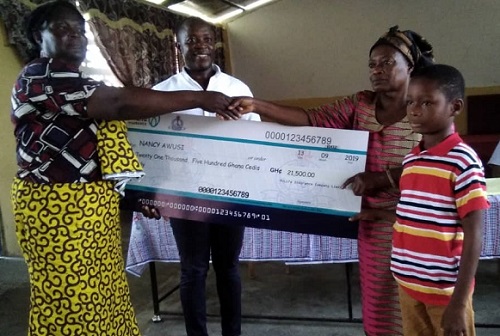 miLife Insurance has paid its 60th death claim of GH¢21,500 to beneficiaries of a deceased (Samuel Agyeman), a member of Ghana National Association of Teachers (GNAT) who had contributed for three months to a life insurance policy.
At a presentation ceremony at Diabene, a suburb in the Sekondi-Takoradi metropolis, Mr. Kwabena Nketsia, Assistant General Manager in charge of Business Development at miLife Insurance, explained that GNAT and miLife have been in partnership since 2017, providing a simple life insurance solution to cover total permanent disability and death.
Currently, he said, the life insurance policy for GNAT members is open to all teaching and non-teaching staff of the association, and urged all members to register with miLife; explaining that "insurance helps in any unforeseen circumstance".
"The life insurance solution is administered by GNAT and underwritten by miLife; Under this policy, GH¢21,500 is paid to the beneficiaries of a covered GNAT member upon his or her death, and disability benefit is paid to members upon total permanent disability from accident or illness," he said.
Also, he mentioned that 100% of premiums paid are reimbursed upon retirement or exit from GNAT; and 100% of premiums are refunded if there is no claim during the 10-year term of the policy and the member exits without a claim – plus 20% on total contribution.
He pointed out that miLife insurance has paid a total of GH¢1,191,820 as death claims to the beneficiaries of 59 deceased GNAT members, and GH¢132,536 as exit and retirement benefit to 337 exited and retired members.
"You can buy Micro Insurance from MTN, which is miWay; all you need to do is dial *165#, register and have your insurance savings. In addition to the insurance, the highest you can pay is GH¢15.60p for a cover of GH¢5,000 for yourself and GH¢5,000 for a family member you have nominated. That family member must not be more than 76 years. When you have a claim, we pay it through your mobile phone; and then if you are saving, at the end of the 13th months you can request your savings," he added.
Mr. Nketsia further explained: "Insurance is about trust, and we want people to believe that the reason they did the policy was for their claims to be paid. We pay claims within five days, we do not let people go through any struggle; mostly, we go to their doorsteps for claims to be paid".
Mr. Nicholas Taylor, Western Regional Secretary of the Ghana National Association of Teachers (GNAT), explained that the association realised that some of the teacher had not subscribed to any insurance policy, hence the need for teachers to join.
"Although there have been misconceptions created in certain circles about insurance when it comes to payment of claims, we partnered with miLife and it has been smooth so far," he said.
He said: "miLife is real, and we have to get all the association members to join so as to get the needed benefit of every contribution they make, which is GH¢33.00 every month; and if you able to pay for three months, you are qualified to take GH¢21,500 – just as we are observing, since the deceased had contributed for three months".
Mrs. Elizabeth Akuoko, Sekondi-Takoradi Metropolitan Director of the Ghana Education Service (GES), praised miLife Insurance for the prompt payment of claim.
"I am impressed, and would encourage everyone to involve him/herself with an insurance policy that will yield fruitful results," she said.
She added: "This cheque is not for funeral celebrations, it should be invested in education of the children for a brighter future".