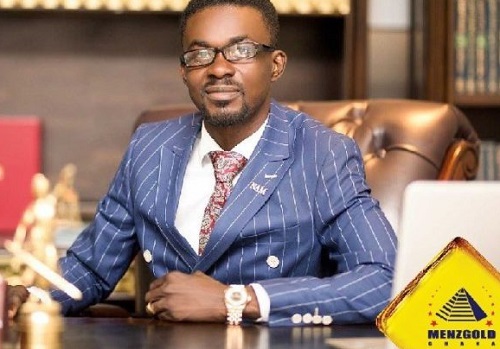 The Chief Executive Officer of gold dealership firm Menzgold, Nana Appiah Mensah, has asked for support from the Attorney General's office to recover an amount of US$39million owed it by Dubai-based Horizon Royal Diamond, in order to meet obligations to its customers.
Mr. Mensah further asked the state to unfreeze his companies' accounts and his personal account, thus enabling the gold dealership "To utilise these as vehicles to get productive in order to meet our liabilities, owed to our customers and some business associates, in our bid to resolve our liabilities immediately".
Speaking at a press conference for the first time in over nine months after successfully wining a case in Dubai to recover the total value of 750kgs of gold, and his eventual transfer to Ghana and subsequent granting of bail by an Accra court, Mr. Mensah said: "We respectfully pray the Ghanaian authorities to cooperate with us to achieve the following:
a/ "To assist us make full recovery of the amount owed Menzgold by Horizon Royal Diamond in Dubai. As an act of good faith, we are willing to engage the Attorney General's office on the best possible way for them to aid Menzgold by employing international law and diplomatic relations to ensure we achieve this objective.
b/ "To unfreeze our company's and my personal bank accounts and assets for us to utilise these as vehicles to become productive in order to meet our liabilities, owed to our customers and some business associates, in our bid to resolve our liabilities immediately. As of now, Brew Marketing Consult, Menzgold and I cannot credit or debit any bank account in Ghana. This is why it is highly imperative to consider this request kindly, as I believe government shares in our resolve and will do all that which is needed in our quest to satisfy the populace, who are our customers."
The embattled CEO of the gold dealership added that his outfit is willing to be regulated by the appropriate government agency, and is ready to apply for a licence to buy, export and trade in gold locally.
He called on government to "clearly give direction as to which government agent or agency has jurisdiction to regulate the activity of a 'gold collectible/jewellery trade; in Ghana, just so we can apply for the necessary certifications in order to proceed with our business in a fair and sound manner".
Background
The Securities and Exchange Commission (SEC), the securities industry regulator, in September 2018 directed Menzgold Ghana Limited to immediately shut down its business of trading in gold collectibles with guaranteed returns to clients – without a valid licence issued by the Commission.
The SEC – in a letter dated September 7, 2018 and addressed to the Chief Executive Officer of the gold-buying firm – said: "The SEC hereby directs Menzgold Company Limited to shut down immediately the business of trading in gold collectibles with guaranteed returns to clients; which constitutes, in essence, dealing in securities with neither the necessary licence nor disclosures authorised by the SEC. No new contracts should be created, and all advertising of the investment business halted with immediate effect".
The notice further warned that: "Failure to comply with this directive will lead to the SEC employing other relevant measures under the law to enforce compliance".
The directive, however, did not preclude the company from continuing "its other businesses of assaying, purchasing gold from small-scale miners, and export of gold".
According to the SEC, the decision was arrived at following investigations into the operations of Menzgold Ghana Limited since 2017, including paying a working visit to the company's head office on August 23, 2018.
SEC, after the working visit and subsequent receipt of further information from the company, concluded that the aspect of Menzgold's business that involves the purchase or deposit of gold collectibles from the public and contracts issued with guaranteed returns to clients is a capital markets activity under Act 929 without a valid licence issued by SEC – contrary to section 109 of Act 929 with consequences under section 206 (1) of the same Act.
The Commission viewed this activity as an issuance of gold-backed depository notes to the public.
The SEC action follows warnings issued by the Bank of Ghana for the investing public to desist from doing business with the company.
The BoG, in a public notice issued in August 2018 and signed by Mrs. Caroline Otoo-Secretary to Governor Dr. Ernest Addison, said in spite of warnings Menzgold persists in its deposit-taking activity – in breach of section 6(1) of the Banks and Specialised Deposit-Taking Institutions Act, 2016 (Act 930).
The central bank warned that it would not be liable in the event of one losing an investment.