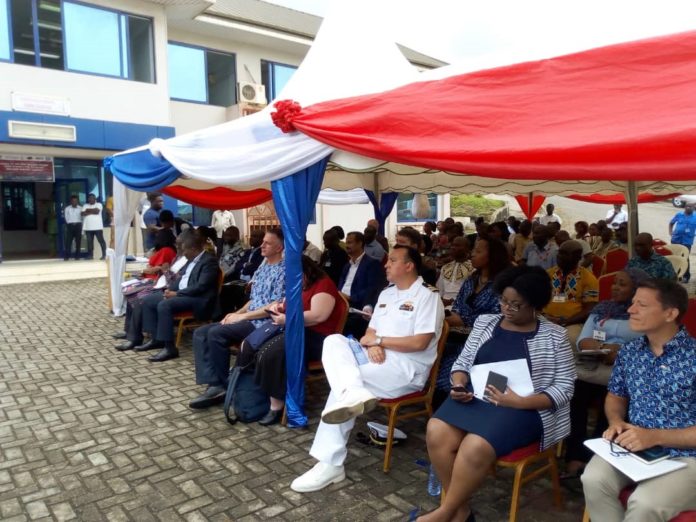 Ghana and the United States (US)  have set a target to reach epidemic control of  HIV infections and HIV-related deaths in the Western Region by 2020.
To achieve this goal, Ghana adopted the UNAIDS 90-90-90 fast-track goals to ensure that ninety percent of percent of people living with HIV know their status; ninety percent of those who know their positive status receive treatment; as well as ninety percent of people on treatment are virally suppressed.
The Western Region, currently has the largest population of female sex workers, estimated at 20,000 – and this has been attributed to the increase in growth of  natural resource industries.
This development is said to have led to a rise in the HIV prevalence rate among these groups, which currently stands at 7%; a figure higher than that of the general population which stands at 1.7%.
Stephanie Sullivan, US Ambassador to Ghana, speaking at the New Western Regional Joint Strategy for Achieving HIV/AIDS Epidemic Control launch at Sekondi in the Western Region noted that although Ghana has commendably strong policies and guidelines for service provision in relation to HIV/AIDS, the situation is quite different when it's comes to implementation .
She mentioned that  the US project chose Western Region because of the spate of industrialisation and influx of female sex workers. The United States supports the government of Ghana to address the epidemic among key populations, since the prevalence is high among them.
She said the US will continue to implement proven strategies such as index-testing; tapping into existing local networks to get people tested, treated and to remain on treatment: work with the Ghana Health Service as well as Ministry of Health to ensure that drugs reach facilities; and training on electronic registers to track patients' services.
"The US ambasador pointed out that HIV is not a death sentence, but complacency can derail the gains in epidemic control – with stigma and discrimination remaining a significant barrier for people to willingly access HIV services," she added.
Dr. Kyeremeh Atuahene, Acting Director-General, Ghana AIDS Commission, said the country has the requisite standards; and with logistics and capacity in terms of clinicians and health staff, HIV will be brought to the the bearest minimum.
Mrs.Gifty Eugenia Kusi, Deputy-Regional Minister, added that the Western Regional Coordinating Council will also work to ensure successful implementation of all interventions to achieve the 90/90/90 in the region by September 2020.