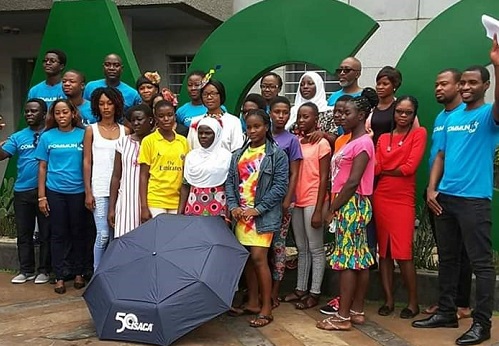 The Ghana Chapter of tech-based independent, non-profit and global association ISACA has teamed up with Grooming Institute to provide a one-day skills training in the making of Ankara beads, earrings, necklaces and other assorted accessories at the Urbano Hotel in Osu.
As part of its corporate social responsibility, about 13 homeless and under-privileged girls drawn from streets across the city benefitted from the capacity-building exercise, which sought to equip them with alternate sources of livelihood and ultimately get them off the streets.
The Accra Chapter President of ISACA, Carl Sackey, told B&FT that the training programme was the association's way of giving something back to society, targetting homeless and vulnerable girls on the streets.
"ISACA is all about technology and IT; but we have set aside October 5 as a Community Day, and the essence is to do something that gives back to society. We decided to look at one of the problems we face in the country, which is the 'kayayei' and homeless girls' situation.
"We have partnered with the Grooming Institute to equip homeless girls with the requisite expertise and skills in making Ankara beads and accessories to enable them fend for themselves," he said.
According to Mr. Sackey, aside from empowering the girls to make a living for themselves, the exercise will help in the fight against 'streetism'.
He added: "In life, everybody has to give back to society because all the fingers are not equal; those who have succeeded should be able to pull others along. That is what we are trying to do; to pull these homeless girls off the streets one step at a time.
"We believe if we can move one person off the street, it can go a long way to help to address the issue of streetism."
Mr. Sackey also indicated that ISACA Accra will work with the Grooming Institute to ensure beneficiaries master the art, package their products, and link them with appropriate channels to market their wares.
Chief Executive Officer of the Grooming Institute of Ghana and facilitator of the one-day event, Rev. Pearl Amoah, commended the ISACA Accra team for the training programme.
She indicated: "This is a good work from the ISACA team; the girls have been introduced to basic accessories-making – including fascinators, earrings, beadmaking etc. to whip-up their interest as something they can take up as a business and eventually get off the street".
Rev. Amoah said the programme will help the beneficiaries to realise there opportunities in accessories-making, and urged more private businesses to support the initiative and get more homeless and underprivileged girls into full training at her Grooming Institute.