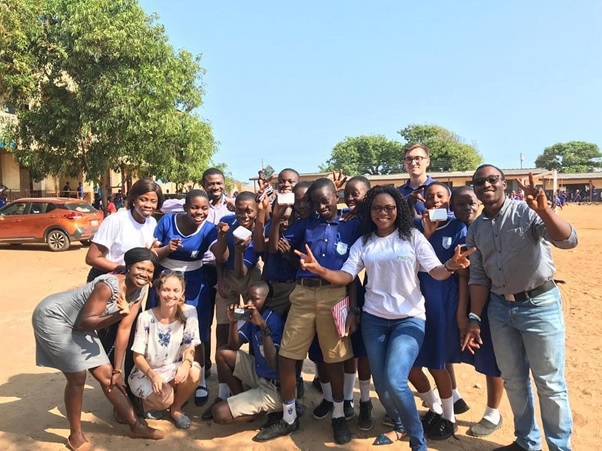 Inspire to Rise has partnered with Grow Ghana; a Ghanaian-German ICT NGO to organise an ICT workshop at the St. Peters Anglican 1 & 2 JHS School, Krowor Municipality, Nungua and the Kanda Estate 1 Basic JHS School, all in the Greater Accra Region.
The beneficiaries were trained on digitalisation, introduction of Raspberry Pi, its parts and functions as well as how to source important information or research from the internet using the Raspberry Pi. They were also taught the skills of basic coding (SCRATCH).
Again, Inspire to Rise partnered Grow Ghana to organise a Menstrual Hygiene Education Session at Gomoa Dampase D/A Model Basic School in the Central Region.
Menstruation is a normal physiological function of the female reproductive system. It however has a lot of cultural significance especially the first time it happens as it is considered as initiation of "womanhood" in most African societies.
This cultural perception and practices associated with it restricts development, necessitating adequate education and engagement with stakeholders including the pupils themselves to ensure girls feel more empowered and comfortable during their period.
The training programme on both themes impacted about 31 girls and 34 boys who participated in the programmes respectively.
Wendy Astwei Laryea, founder of Inspire to Rise, in an exclusive interview, said: "We are always determined to help the less privileged and young ones in society and getting the opportunity to make an impact today in the lives of these young ones give me great joy. I am also happy about the partnership with Grow Ghana and we hope to inspire and impact more young ones in this area."
Ms Laryea is involved in several volunteering works including serving as a Menstrual Hygiene Ambassador for UNICEF Ghana, a Resource Person and Mentor for Planned Parenthood Association of Ghana (PPAG) "SISTAS' Mentorship Programme in Ghana through which she has helped build capacity for Community-Based Interventions to empower vulnerable adolescent girls (10-19 Years) to reduce child marriage and teenage pregnancy.
About Inspire to Rise
Inspire to Rise is a non-profit initiative founded primarily to aid the youth in Ghana and other parts of Africa into realising their identity, potential and place in society. Inspire to Rise believes that an empowered generation makes the world a better place and as such execute community projects that seek to educate, mentor and impact the lives of children and youth.
Inspire to Rise believes that the best way to unlock human potential is through the power of creative collaboration. That's why it builds partnerships with businesses, NGOs, governments, and individuals everywhere to work faster and better; to find solutions that last; and to transform lives and communities at large from what they are today for the better.