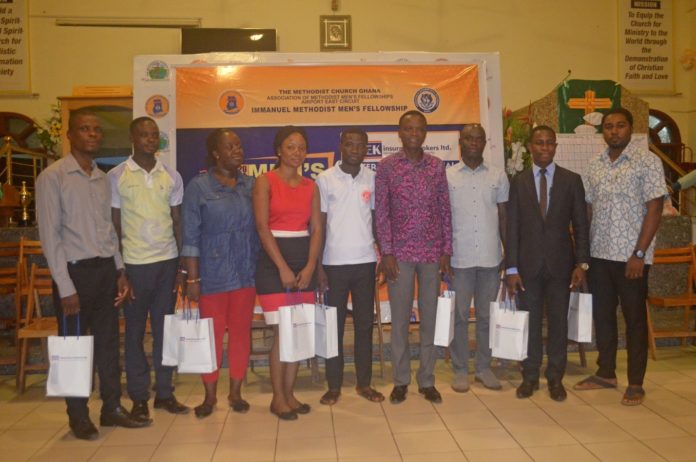 The Immanuel Methodist Men's Fellowship of the Airport East Circuit of the Methodist Church Ghana has won the 2019 Men's Week KEK Inter-Organizational Bible quiz competition. The Singing Band came second followed by the Boys and Girls Brigade all of the Immanuel Methodist Society, East Airport, Accra.
The annual event is organized as part of activities to celebrate the Men's Week instituted by the Methodist Church, Ghana with the ultimate aim to raise funds for developmental projects within the Church.
Presenting the trophy to the winners, Mr. Charles Oduro, Managing Director of KEK Insurance Brokers, sponsors of the competition said the adequate knowledge of the word of God was one of the surest ways by which Christians could remain pious and faithful.
He said the Bible was the most powerful tool in the arsenal of all true Christians and worshipers of God and that any effort to win souls for God must begin with the word and ought to be taken seriously and supported.
The Quiz Master, Rev. Stephen Addo  of the Immanuel Society congratulated the Winners for their 'wonderful display of the knowledge of the Bible and Methodism in Ghana' and urged them not to rest on their oars.
The Chairman of the Immanuel Methodist Men's Fellowship, Mr. Kweku Sersah-Johnson expressed the appreciation of the Executive and members of the Fellowship to all the participants in the contest, especially the KEK Insurance Brokers for their kind decision to sponsor the quiz contest each year.
He said funds realized from the Men's Week this year will go to assist with the completion of the Methodist Retreat Centre at Kwadaso in Kumasi, the Ashanti Regional capital.
The six Organizations which participated in the contest were the Singing Band, the Susana Wesley Women's Auxiliary, (SUWMA), the Boys and Girls Brigade, Methodist Youth Fellowship, the Christ Little Band and the Methodist Men's Fellowship.