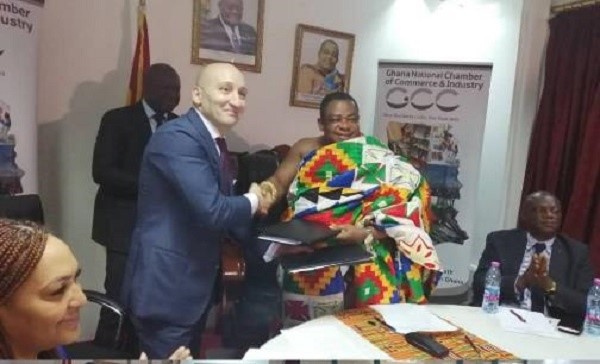 The International Finance Corporation (IFC), a member of the World Bank Group, has signed a Memorandum of Understanding (MoU) with the Ghana National Chamber of Commerce and Industry (GNCCI) to strengthen corporate governance among companies, particularly SMEs.
Per the terms of the agreement, the IFC will provide training and advisory services to members of the Chamber, organise workshops, seminars, and conferences to enable companies, particularly SMEs, improve their corporate governance structures.
The President of GNCCI, Nana Appiagyei Dankawoso I, signed for the Chamber, while Moez Miaoui, Head of Corporate Governance Advisory for West Africa at IFC, signed on behalf of the global finance firm, during the signing ceremony in Accra.
The idea to encourage good corporate governance, the Chamber explained, is to help companies achieve good performance, increase access to finance and foster sustained growth
"It is my expectation that, through this corporate governance capacity building programme, the business community will be equipped with relevant knowledge and skills to strengthen their governance framework and improve their overall governance practices to sustain business growth and performance," President of GNCCI, Nana Appiagyei Dankawoso I, said.
For his part, Mr. Miaoui said: "Corporate governance is not just a concept for big companies, multinationals or banks, it is a set of principles and practice that should be at the core of each and every organization, institution or company, no matter its size, sector or location."
To provide a set of tools relevant for SMEs in their growth cycle or stage, he said, IFC launched an SME training toolkit for industry players.
The objective of IFC, Mr. Miaoui explained, was not solely to offer financial support to institutions and companies but to make them independent and efficient by building their capacity and training trainers.
For companies to keep getting financial support from investors, banks and other institutions to promote growth and development, he noted that SMEs had a responsibility to make good use of the technical support being offered.