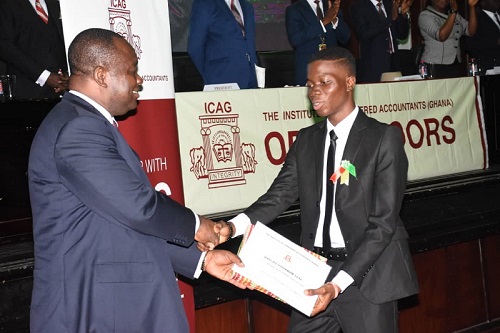 Dr. Yaw Osei Adutwum, Deputy Minister Education, has applauded government for its efforts in transforming the educational system and building on the country's human capital.
Speaking at the 32nd graduation ceremony of the Institute of Chartered Accountants, Ghana, he said it has become clear that without education, especially higher education, no nation can transform thus the need to grow the human capital through investment in education.
He said once our education system is transformed, Ghana will be in the place where its ecomomic development will be sustainable. It will also put Ghana in a place where the country can compete with other nations around the world.
He urged the graduating accountants and accounting technicians not to be driven only by the desire to succeed; but rather, their success should translate into value for the society in which they live.
"After enduring the ups and downs in school, whatever goals and ideals you set for yourselves must not merely be the acquisition of wealth and this world's goods: cardinally important should be the desire to make a difference in your generation, to leave behind a legacy of worth for posterity," he added.
Prof. Kwame Adom-Frimpong, President, ICAG, reminded accountants of the word 'Integrity' and stressed that it is one of the important fundamental elements in the accounting profession, which requires accountants to be honest, candid and forthright with clients' financial information.
He said accountants should control themselves from obtaining personal gain or advantage by using confidential information. He underscored the importance of Due Care and Competence as ethical values that require accountants to observe all ethical accounting standards; such as competence, diligence and the proper understanding of financial information.
The Induction and Graduation ceremony, the first in the year 2019, formalised the admission of new members into the fold of the Institute's current membership; and provided a platform to award certificates to those who have qualified after successfully passing all three levels of the Chartered Accountants (CA) professional examinations and the Accountancy Technician Scheme West Africa (ATSWA) Programme.
Certificates were awarded to 430 people – comprising 418 students who successfully completed the CA Professional Programme in November 2018 and 12 others who pursued and completed the ATSWA Programme in September 2018, while 350 inductees were admitted into the membership of ICAG.
Bright Odorkor-Teye emerged the Overall Best Candidate for Level three in the November 2018 professional examinations, while Abraham Glover and Eric Mensah emerged the Overall Best Candidates in Levels one and two respectively.
The Overall Best Candidate awards for Levels one and two were sponsored by Hon. Albert Kan Dapaah and Joseph N.A. Hyde― both past Presidents of ICAG― while the Overall Best Candidate award for level three was sponsored by Unilever Ghana Ltd.
Special awards were also given in Financial Accounting, Business Management and Information systems, Business and Corporate Law, and Quantitative Tools in Business for Level One.
At Level two, the subject areas for special awards were Financial Reporting, Management Accounting, Audit & Assurance, Financial Management, Public Sector Accounting & Finance and Corporate Strategy, and Ethics & Governance.
And for Level three, the subject areas for special awards were Corporate Reporting, Advanced Audit & Assurance, Advanced Financial Management, and Taxation & Fiscal Policy.
A Special Award for the Best Female Candidate in Level three, sponsored by the Association of Women Accountants in Ghana (AWAG), went to Sarah Kissiwa Kissi.