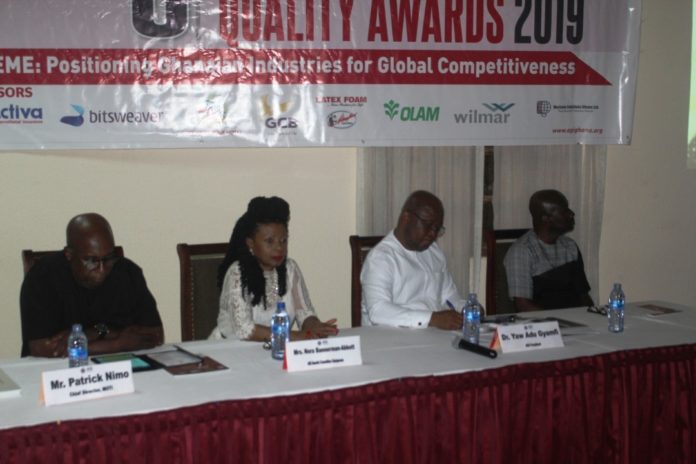 The country might not benefit fully from hosting the Secretariat for the African Continental Free Trade Area (AfCFTA) if nothing is done to improve the competitiveness of local companies, the Association of Ghana Industries (AGI) has argued.
Although the AGI described government's bid to have the country host the Secretariat as laudable, it said it will do very little to better local companies' lot unless something is done to grow them to the level of their peers in other AfCFTA member markets.
Worryingly, it noted that the current situation where the country imports over 70 percent of what it consumes could further be compounded if government fails to initiate urgent steps to help local industries expand and be competitive.
"As things stand, if you compare Ghana to Nigeria, Kenya, South Africa and Ethiopia, they have bigger companies than us. So it is not only about hosting the Secretariat, but rather building local companies to become larger in order to be competitive with their peers elsewhere," said AGI's President, Dr. Yaw Adu Gyamfi.
Dr. Gyamfi spoke at the launch of the 8th AGI Ghana Industry and Quality Awards 2019 in Accra, and added that Ghana, unlike Kenya, Nigeria, South Africa and Ethiopia, cannot boast a single company with yearly turnover of over US$200million. He said in those countries companies have turnovers in excess of US$500million per annum.
"Now that the CFTA is coming into force, Ghanaian companies need to up their game, because it is about productivity. If you do not produce enough in order to get your prices to be less, you cannot be competitive. So, it is about economies of scale that we are talking; having all the local companies to become competitive.
"I therefore wish to make an appeal that government as a matter of urgency must help develop local production capacity. This will position Ghanaian industries to fully leverage the opportunities of the agreement, otherwise Ghana runs the risk of being marginalised," he stated.
Ideally, he said, government being the biggest spender could strategically use its procurement power to ramp-up local production- which will in the long-run bring about expansion, economies of scale, and competitive prices for locally produced goods and services.
"This level of support can be achieved if our government buys made-in-Ghana products. Our government is the biggest spender and can use its procurement power to support local producers. It might be a little expensive, but in the long-term these companies will get to a level where they can produce more at lower cost.
"All ministries and government agencies procure one thing or another, so our government can be the off-taker. What government needs to do is say, look, our own companies are producing so let us support them by procurement," he advocated.
Without this level of support, he said, it might be tough for local firms and the country at large to become competitive and take advantage of the AfCFTA, even if government succeeds in winning the right to host the Secretariat here.
"When we are able to increase productivity then, issues like unemployment will be solved. We must be reminded that no one is going to do it for us; it is government and indigenous companies that can turn things around," Dr. Gyamfi further noted.
8th AGI Ghana Industry and Quality Awards
On the theme 'Positioning Ghanaian Industries for Global Competitiveness', the 2019 edition of the awards, to be held in November this year, will reward companies and individuals for their outstanding contribution to industry and the economy as a whole.
"As the leading voice of the private sector in Ghana, we owe it to industry to reward our hard working companies who have striven to keep the wheels of industry running.
"The AGI Ghana Industry and Quality Awards seek to motivate our industrialists into striving to perform better, even in the face of economic difficulties. It is our duty as an Association to give credit to such distinguished companies while motivating others to climb up the ladder of excellence," Dr. Gyamfi said in his address.
He added that the AGI would like to see a business environment where hard work is continuously rewarded and help is available for those who need it.
"Indeed, our businesses would do better if our business environment improves, especially with the right policies and regulations. We are blessed as a country to have had the political stability all these years for business to thrive and to attract more FDIs. Investor confidence remains high, I believe, and we have a strong brand as a country to become the leading hub for business in our sub-region," he indicated.