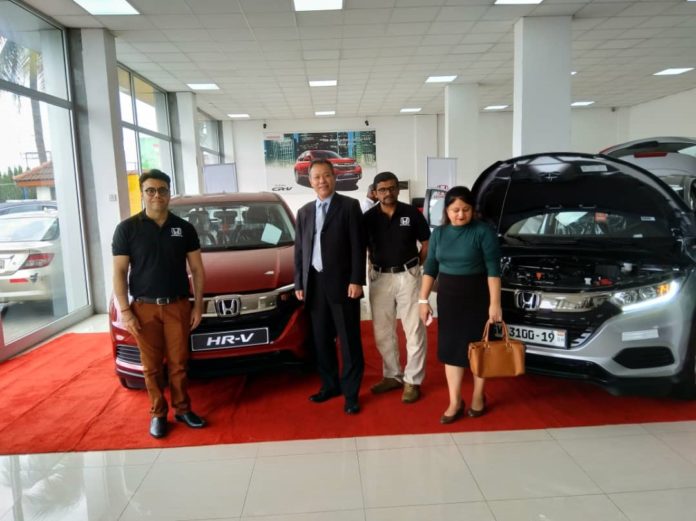 The Honda Place Ghana Limited, accredited dealer of Honda automobile products in Ghana, has launched the all-new Honda Hi-rider Revolutionary Vehicle (HR-V) onto the Ghanaian market.
The vehicle was officially launched onto the global market in January this year, but is making its way to Ghana after five months – thereby making the country first in the sub-region to market this vehicle.
HR-V comes with two grades for the Ghanaian market – LX and EX models – and will be available at all branches of the company nationwide.
The all new HR-V has a unique feature of better fuel efficiency, and boasts a youthful vibe with unique styling touches.  It also comes with a multifunctional steering wheel that puts the audio and cruise controls at the driver's fingertips.
Brand Head-Honda Sales, Manish Daryanani, in a presentation on the product explained that the safety of passengers and other road users has always been the fundamental design requirement –  and as such, an Advanced Compatibility Engineering (ACE) body structure was used to aid the driver and enhance occupants' protection and crash compatibility in frontal collisions.
"We have intuitively designed the HR-V cockpit to ensure that everything is where you need it. So, although the elegant dashboard includes the very latest technology, it's incredibly easy to understand and use.
"the HR-V has a spirited engine performance matched with low running costs. It features a responsive 140hp 1.8 i-VTEC petrol engine that maximises economy and efficiency, achieving 800 km on a tank of fuel," he said.
The interior design also has safety in mind, as it comes with six airbags installed both at the front and the rear, as well as a panoramic sunroof.
Mr. Manish also indicated that seats in the new HR-V are designed based on a magic configuration model – featuring long mode, tall mode and utility mode. The rear seats are configured to split, so as to ensure large tailgate opening and wide opening to make way for a cargo floor capable of carrying more goods when necessary.
FIN