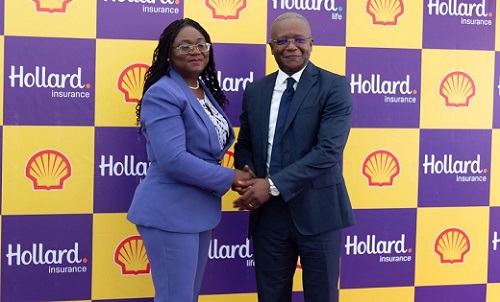 Hollard Group – Hollard Life and Hollard Insurance – have signed an MoU with VIVO Energy, two giants of industry, to partner and make accessibility a standard of service.
The partnership is expected to bring innovation in the insurance and retail sectors, whereby Hollard Insurance and Hollard Life is partnering with VIVO Energy to provide a one-stop-shop for insurance products at selected Shell Filling Stations.
The inaugural ceremony was launched at the University of Ghana Shell Filling Station, near the Pentagon Hostels by the PRESEC Traffic Lights last week. Thus, it becomes the first of its kind, the most innovative partnership that has taken place in Ghana's Insurance Industry in recent times.
Madam Patience Akyianu, Group Chief Executive Officer-Hollard Group, at the launch indicated it is the start of a partnership that will become the yardstick of innovation in insurance and retail sectors.
She pointed out that this is not business as usual, "but as Hollard Ghana, partnerships are integral to our purpose and ingrained in how we operate". Importantly, she said Hollard is always seeking partnership that will deliver a triple win. "That is to say a win for us, our customers, our partners – all in a bid to enable more people to create and secure a better future."
About the partnership   
She explained further that the National Insurance Commission (NIC) has given approval to the partnership, so the two subsidiaries – Hollard Insurance and Hollard Life – will partner VIVO Energy to sell insurance products at selected Shell Shops across the country; starting with Adjiringanor, Airport City, Asokwa, Kasoa Amanfrom, Koforidua highway, Kwadaso, Legon, Tema Meridian, University of Ghana and Western Bypass.
She explained further that the 'Hollard-on-the-go' booths in Shell Shops will be manned by trained business executives of Hollard, who are well-versed in Hollard's suite of products.
"Customers who visit are guaranteed professional service and a full range of our financial services. We will issue insurance policies and materials, receive customer premiums, and make claim payments."
According to her, general insurance product customers visiting the selected shell shops can get travel insurance; personal accident, home content and motor insurance; while life insurance products including Adepa Family Plan, Adepa Goal Save and Adepa Wo fie products will also be sold there.
Mr. Ben Hassan Ouattara, Managing Director-VIVO Energy Ghana, indicated that they are pleased to be entering a partnership deal with a leading insurance company in Ghana – Hollard Group, Hollard Life and Hollard Insurance – to introduce the first insurance service through the Shell Shop channel.
According to him, this is in line with VIVO objectives to continually meet the dynamic needs of their customers.
About VIVO Energy Ghana
VIVO Energy Ghana is the exclusive marketer and distributor of Shell-branded products and services, with a vision of becoming African's most respected energy business.