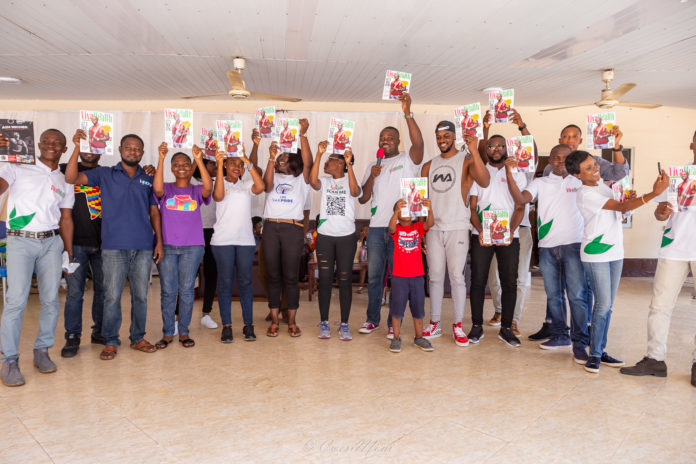 Remex Communications, a full service digital media agency, will on 10th August 2019 launch a comprehensive general health magazine that will have a special focus on mental health.
The magazine, VivaHealth will be distributed freely and feature vital articles on community health education, pregnancy and childbirth education and assistance, HIV/Aids and other infectious diseases, public health research and development.
Activities lined up for the launch includes a free medical screening, health and fitness exhibition, food and beverage sampling.
Medical doctors and industry professionals will be available to offer quick one-on-one insights on health and lifestyle. In addition, celebrity fitness trainer Warmz Incredible will conduct fitness training sessions and offer fitness coaching to participants.
The content of the magazine aims to deliver accurate and trusted information on real life medical challenges and educate readers about the underlying causes of certain medical conditions and how to safeguard against them. It will also share thought provoking tips on mental health and other related diseases.
With over 50 doctors and medical experts providing health and wellness education content for the magazine, the primary focus is to improve the health standards of readers.
Dr Carl Nutsugah, founder and editor of the Magazine, describes the magazine's goals as one that will delve deep into the healthcare ecosystem and engender conversations on health literacy.
"Our focus is to give Ghanaians and the rest of the world information that would otherwise not be found in the everyday news item. This is so important, and we feel we owe it to people to discuss matters that are critical to their wellbeing", he said.
According to him, the health sector forms a critical part of the country's development but a study of Ghana's healthcare system revealed a wide gap on the necessary information that will enable people to adopt lifestyle habits that will improve their physical, mental and emotional health.
Commenting on the state of mental health in the country, he said it was important to recognize early signs of mental health conditions and provide an emotionally safe environment and other appropriate resources and support for people who live with those conditions.
He further explained that Ghana still struggles on the mental health front due to the negative attitude towards mental illness which worsens the situation and contributes to discrimination against people with such conditions, adding that the stigma stops people from reaching out and seeking help.
Dr Nutsugah suggested that Ghana must take mental health education serious by absorbing it into its educational curricula. He also suggested that General practitioners at primary healthcare outfits should receive further training in identifying mental illnesses, providing initial appropriate management and knowing when to refer for specialist care.
"It is important for the country to begin mental health education at the basic school and creating awareness about the importance of emotional well-being in the senior high schools and the tertiary level," he said.
Chief Marketing Officer of VivaHealth, Derrick Tagoe commented that the maiden issue, which will feature lifestyle, fitness and health content will be available in hotels, flights, supermarkets, offices, hospitals and gymnasiums for all.
"The overall goal is to provide health education topics specifically on disease prevention in order to improve health and enhance the quality of life," he said.
Mr Tagoe said the high-quality content of the magazine gives it unmatched leverage in the health and fitness sector, adding that a targeted and inclusive digital platform will be launched in the future to complement the magazine.
"What we aim is to create a new standard on delivering accurate medical information and be a trusted source for health and lifestyle related issues in Ghana, Africa and the world," he noted.
Accordingly, a yearly outreach will be instituted by the magazine to reach out to dwellers in suburban and remote areas to also share the news of good and healthy living. Every edition of the magazine would also witness a very unusual health dissemination skill.
This will be achieved by translating a trending health topic into a workable local language. This will further champion the spreading of the health news to all and sundry irrespective of the language they speak