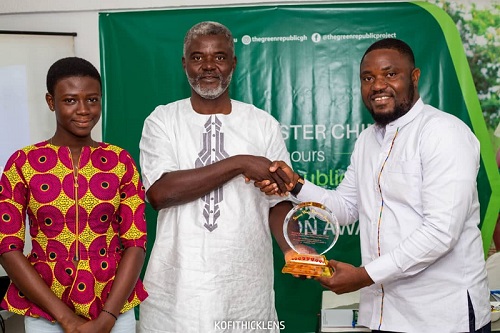 The Convener of the Green Republic Project, Nana Yaw Osei Darkwa, has received recognition from the renowned philanthropic organisation the Supreme Master Ching Hai, for his role in helping protect the environment through his tree-planting efforts.
Mr. Osei Darkwa was given the Shining World Protection award for his leadership and exemplary efforts which have inspired many young people and communities to take part in the fight against climate change and global warming through the planting of trees.
The plaque that accompanies the award read, in part: "In recognition of your outstanding advocacy for environmental conservation by planting millions of trees, mitigating climate change. With compliments and gratitude for your compassion and benevolence commitment to protect our planet". The award also came with a US$10,000 prize money to be used on funding activities of his NGO.
Commenting on the honour bestowed on him, the Green Republic Convener thanked the philanthropic organisation for recognising his efforts and further praised his team for the hard work they put in, and which have resulted in this award.
"I pray for good health and long life for The Supreme Master Ching Hai. This is a true definition of a miracle, because until this award I had never read or heard of The Supreme Master Ching Hai and her international Association.
"The little I have read after the award announcement clearly points to the fact that when good people have wealth, they use it for good things; and when bad people have wealth they use it for bad things, and so we all have a responsibility to pray for wealth to get into the hands of good people like The Supreme Master Ching Hai."
The Green Republic Convener also seized the opportunity to reinforce his call on government to set a National Tree Planting Day, so as to help accelerate the nation's reforestation drive and, in particular, the battle against climate change which must be won at all costs.
He also thanked the Forestry Commission of Ghana and Humano Energy for their support in the fight.