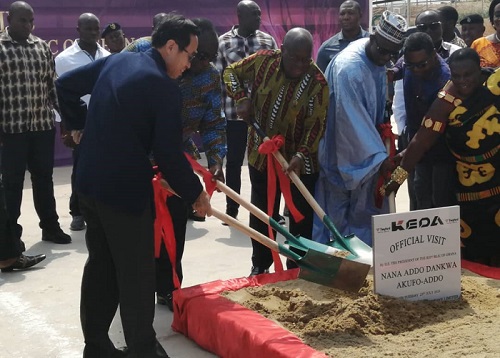 President Nana Addo Dankwa Akufo- Addo has said government is determined to combat all forms unfair competition among businesses in the country to make way for legally established ones to flourish.
"We have established institutions in the country to deal with the question of unfair competition of domestic industries and that the Ghana International Trade Commission, is one of them" he reiterated.
The President was responding to concerns raised by the managing Director of KEDA Ceramic Company Limited on how some inferior goods are dumped into the Ghanaian market making it difficult for quality products to suffer in profit making.
He assured the company that government is determined to protect the local industries and domestic manufacturing companies to flourish and that all challenges should be sent to institutions established for that purpose.
He was speaking at the sod cutting ceremony for the second phase of the KEDA (Ghana) Ceramic Company Limited which is expected to begin by September this year in Aboadze in the Shama District of the Western Region.
A total investment (phase 1 and phase 2) are expected to reach US$77million and will create 2000 direct jobs and 3,000 indirect jobs; annual production capability will also be 21million square meter.
President Akufo-Addo said that "insisting on IDIF is to change the nature of the economy, we cannot be producers and exporters of raw materials of the country if we want to bring progress and prosperity".
He said the significance of the ceramic factory, has led to the reduction of importation of tiles by 14 %. Value addition of raw materials is what the company is doing and developing the local economy and market.
"We want to enter 21st century as an industrial driven economy and this helps to deal with the issue of poverty and employment and the need for risen income for the ordinary people. I am here to throw my weight behind you and encourage you to do more "he said.
He mentioned that government is embarking on vigorous export drive to cover the entire ECOWAS region; "This ceremony we have witnessed today is another strong evidence of the economic cooperation that exist between the Republic of Ghana and the People's Republic of China and commended the promoters of the company for this significant investment".
Mr. Lorry Li, Managing Director of KEDA (Ghana) Ceramic Company Limited said 95 % of materials used in production are sourced locally and expressed appreciation to Ghana for providing a congenial atmosphere.
Also, he said more than 70 percent of the products will be sold in the sub region; allowing the factory to pay tax revenue of more than US$8 million annually.
"In recent years, China- Ghana friendship has been continuously strengthened and the cooperation between the two countries has yielded fruitful results and that the Chinese government also encourages Chinese enterprises and individuals to invest in Ghana" he said.
Mr. Wand Shi Ting, Chinese Ambassador to Ghana added that "this is a model of success of Ghana beyond aid and that the relationship between Ghana and China has yielded fruitful results.
Kwabena Okyere Darko-Mensah, Western Regional Minister pointed out that Shama District, has become a gate way to the region.
He announced that the Western Regional Coordinating Council has set up an industrial Center and urged businesses and investors to visit that region and that they will be given the needed support.