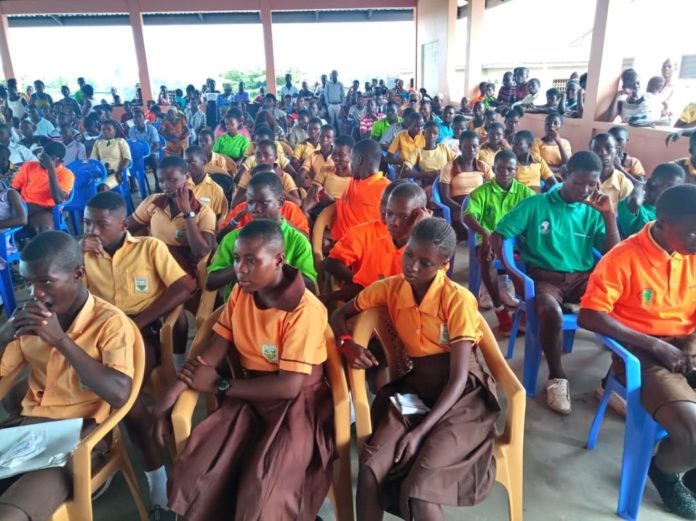 The Health, Safety, Environment and Community (HSEC) department of Golden Star (Wassa) Limited and GSWL have celebrated the World Environment Day for schools and communities in the company's operational area.
The celebration, which coincided with a tree-planting exercise, was on the theme 'Air pollution and greening the blue'. It was to create awareness of the environment, encourage the attention of policymakers, and ensure the best decisions and actions are taken to protect and sustain the environment.
Also, it was to highlight the devastating effects of air pollution and the sustainable measures which can be taken to protect the atmosphere that everyone needs to survive.
Speaking at the programme at Old Subri in the Wassa East district of the Western Region, the HSEC Manager GSWL, Mr. Quawson Nyanzu Agyabu, explained that air pollution does not recognise borders – it can travel anywhere; and improving air quality demands sustained and coordinated action at all levels.
"Government, communities and institutions need to work together on solutions for the adverse impacts of air pollution on people and the environment as a whole," he said.
According to him, sustainable development cannot be achieved if the well-being of all citizens is not up to standard. The effect of air pollutants cannot be overemphasised, but most people see air pollution from the perspective of outdoor sources such as smog, vehicle emissions, factory smokestacks among others.
He pointed out that a higher percentage of illness associated with air pollution are caused indoors: The World Health Organisation has indicated that, on a global level, nine out of 10 people breathe air containing high levels of pollutants.
He said most of these people are women and children who breathe in deadly smoke from using inappropriate stoves and fuels in their homes.
He added: "It is a shame that images of burning electronic scrap in the open air for copper and other metals in Ghana have gone viral globally; the practice of burning tyres at abattoirs, odours from poor waste disposal – including sewage – contribute to many illnesses affecting society.
"Let us ensure the indoor environment is safe and free from pollutants such as hazardous chemicals, smoke from the kitchen and dust," he added.
Mr. Shadrack Adjetey Sowah, Managing Director of GSWL, mentioned that air pollution is now on the global table, and it deserves to be put in the spotlight as no one is spared from the pollutants which abound in the atmosphere.
"WHO recognises that air pollution is a critical risk factor for non-communicable diseases, causing an estimated 24% of all adult deaths from heart diseases, 25% from stroke, 43% from chronic obstructive pulmonary disease, and 29% from lung cancer," he said.
He pointed out that updated estimations reveal an alarming death toll of seven million people every year caused by ambient (outdoor) and household air pollution.
He said sustainable development cannot be achieved in any society if lives and productivity are lost due to the effects of air pollutants, so action must be taken.
"We must all find effective ways to manage air pollution; let us consider the dependency on charcoal and firewood by cutting lots of trees, improper waste disposal, and open burning of waste – especially car tyres," he added.
He advised: "Let us also reconsider the use of harzardous cleaning products in our homes and the application of pesticides. These are silent killers; we inhale them in small doses but they build up our system and affect our bodies over a long period of time".
Madam Ernestina Winful, Wassa East District Director of Education, encouraged the schoolchildren and communities to change their attitude toward the environment.
She urged teachers to continue their good work and appealed for the company to extend its good works to other communities in the district.
Nana Ampaw Kow II, Chief of Old Subri, pointed out that teenage pregnancy is on the increase in the area, and urged the students to avoid indiscriminate sex and concentrate on their studies.
"Challenge yourself and be the hero of your family, and encourage parents and guardians within the communities to take good care of their wards as well as provide their needs,"' he said.
In a quiz competition on the environment among schools within the company's catchment area, Old Subri School emerged as the champion followed by Akyempim School 'A', while Nsadwenso School and Akyempim School B were tied.