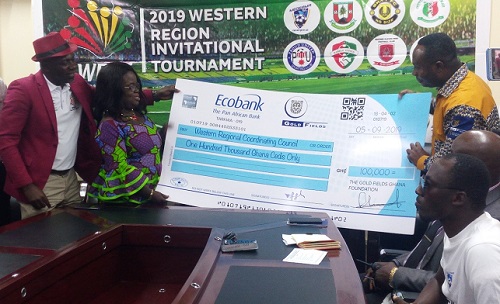 Gold Fields Ghana Limited has presented a cheque for GH¢100,000 to support the maiden edition of the Western Region Invitational Tournament (2019), which is scheduled to take off this September to showcase the region's soccer potentials.
The Western Region Invitational Tournament is a brainchild of the Western Region Sports Committee (WRSC) with support from the Western Regional Coordinating Council (WRCC).
Participating teams are group A: Skyy FC, Kerala United, Sekondi Hassacas, and Sekondi Eleven Wise with Essipon as the venue; while Group B will feature Medeama FC, Samartex FC, Proud United and Nzema Kotoko at the Samreboi Stadium.  At stake is a silver cup donated by WRCC and an undisclosed sum of cash.
The opening match is scheduled for Friday, September 13 at the Samreboi Stadium, and will see Samartex FC jostling for honours with Proud United while the final match will be played   between the winners of match-13 and match-14 on Sunday, September 22, at the Essipon Sports Stadium.
Presenting the cheque, the Vice President of Gold Fields in charge of Human Resources, Francis Eduku, spoke about the significant role soccer plays in the region and pledged the company's support for the game; with this gesture, Gold Fields becomes the headline sponsor of the soccer tournament.
"We want to promote the Western Region's economy through soccer, and we are committed to supporting and improving the game. Our support is toward national development and we know that the best is always because of soccer. Indeed, we believe that there are huge opportunities in sports," he added.
He pointed out that Gold Fields is keen on improving and raising standards at the TNA Park in the Tarkwa-Nsueam Municipality to international levels, as Medeama FC has now become the poster-child for the image and stature of soccer in the area and the Western Region.
The Deputy Western Region Minister, Mrs. Gifty Eugenia Kusi, in receiving the cheque reminded the WRSC that: "There is a need to be transparent and accountable in your work, to justify the investments made by Gold Fields and also to boost the confidence of all partners".
The Chairman of WRSC, Wilson Arthur, pledged transparency in management of moneys for the tournament, which have been lodged in the WRCC's special accounts: "Funds will be given to participating teams to cover transport and feeding, as well as accommodation." and he expressed gratitude to Gold Fields for the kind gesture.
The Western Region Sports Development Officer, Mr. Joseph Alabi Bortey, expressed happiness that Gold Field Ghana Limited has come on board to support this initiative.