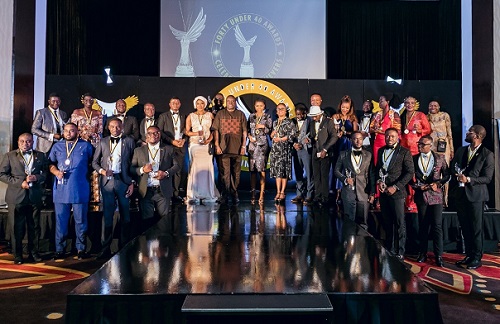 The Minister of Business Development, Ibrahim Awal, has charged organisers of the 40under40 awards to provide him with 40 businesses to develop over the next five years so they become globally competitive.
"This year, the Ministry of Business Development – beginning this week – will provide funding for 3,000 young entrepreneurs, and I want to urge you to give me 40 young business leaders so I give them funding.
"When we give you the funding, you become our partners and we build your capacity, handhold you and train you for five years so you can grow competitively in Africa and globally. I am charging you to give me 40 people to grow them," he said at the third edition of the annual 40under40 awards which came off at Kempinski Hotel, Accra.
The 40under40 Awards seek to identify, honour and celebrate a cross-section of the nation's most influential and accomplished young business leaders under the age 40 from a wide range of industries, who are committed to business growth, professional excellence and community service, and have risen through the ranks of their companies or industries at a relatively young age.
Apart from winning the communications category, I-zar Group CEO, Rashida Saani Nasamu, was also adjudged overall winner or Champion of Champions for this year's ceremony.
The awards put the spotlight on these young achievers not only to celebrate them, but also to build a strong platform for them by giving a voice and opportunities to the next generation of industry pacesetters while building a positive attitude in our youth to strive for excellence at a tender age.
To Mr. Awal, entrepreneurship is not an easy journey but is very rewarding. He urged the young business leaders to create a culture of innovation at their workplaces.
"We must constantly innovate to ensure that our products are not only meeting local needs but competing on the international stage. Create a culture that will make young people in your offices bring out new ideas – and reward them, because it is very important to make our products and services survive," he said.
The free trade area, he explained, has now created a market of 1.2 billion people and a US$3.3billion trade and investment platform. The only way to take advantage of this is to innovate and introduce products and services that can meet international benchmarks, he added.
Winners
For honorary awards, Excellence in Media Proprietary Software – Maame Ama Owusu Arhin; Female Personality of the Year – Claudia Lumor; Male Personality of the Year – Robert Mensah; Promoting Ghanaian Beauty Industry – Rebecca Donkor; Excellence in Construction – Dr. David Amoafo; Social Entreprenuer of the Year – Dr. Michael Boadi Nyamekye; People's Choice Award- David Asante; and Dr. Mary Offei was also awarded.
Under the competitive category, Agricultural & Agro Processing – Charity Annan Adupong; Authorship & Creative Writing – Waterz Yidana; Décor and Design – Freda Ofori-Amanfo; Banking and Finance – Alhaji Abdul Salamu Amadu; Beauty and Lifestyle – Eric Amankwah; Communications – Rashida Saani Nasamu; Community Development – Nafisa Quainoo; Consultancy & Professional Service – Farouk Khailann; Education – Precious Senafiawo; Fashion – Clement Asemnyra; Beverage – Jean Paul Feghali; and Food/Catering – Francis Kofigah.
Health and Wellness – Anthony Adjepong; Hospitality – Maurice Aouad; Investment – Richard Nii Armah Quaye; Law – Eddie MacCarthy; Logistics & Supplies – Nicholas King Amenyedzi; Manufacturing – Dorinda Matey; Media (Digital and Social) – Nii Atakora Mensah; Mining and Natural Resources – Samuel Akwei-Sekyere; Music (Reggae/Dancehall) – Livingstone Etse Satekla; Music (Hip Hop) – Michael Addo; Energy/Oil&Gas – Selase Tamakloe; and Leadership in Family Business – Kennedy Asante Osei.
Philanthropy & Non-Profit – John Nyavor; Printing & Publications – Stephen Asiedu; Real Estate & Development – Kofi Adabor Ofori-Amanfo; Safety & Security – Maxwell Osei Owusu; Sales & Marketing – Gwyneth Gyimah Addo; Shipping and Maritime – Paul Jesse Mensah; Social Enterprise – Victoria Quaye; Sports – Cleopatra Nsiah Nketiah; Technology & Innovation – Anthony Dzamefe; Telecom and Mobile/Software Development – Issah Abdulai Afugu; Theatre & Arts – Prince Kojo-Hilton; and Travel and Tourism – Dr. Edwin Koranteng.