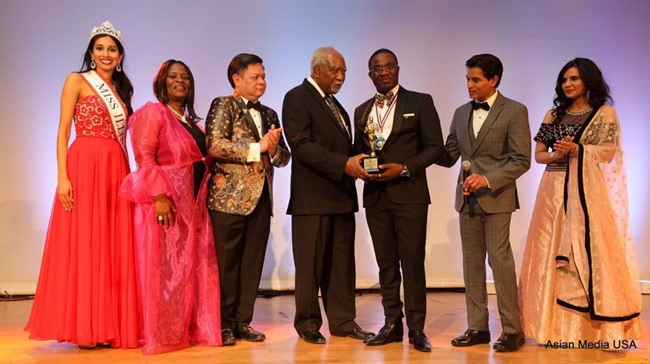 Contributing immensely to the growth of the health sector in Ghana especially his initiative of publishing a health directory detailing all information on hospitals, clinics, and pharmaceutical industries in 2007, his maternal healthcare empowerment in the country since 2011, adding up with various research works and recommendations to promote quality health care in Ghana, his efforts have been internationally recognised by renowned organizations and agencies.
With more than 15 categories, Dominic, President of GITAC, a health researcher and analytic professional won the Health Care Activist of the 2019 edition of the Global Community Oscars annual international awards, held in Chicagoland, USA. Some recipients of the GCO 2019 were Rev. Jesse Jackson Snr. Bishop Shirley Ann Coleman, an American Politician and Pastor, winning the Inter Faith Leadership award of the year, Dharmapuri Vidyasagar, Professor Emeritus of Paediatrics and Neonatology of University of Illinois at Chicago Medical Centre, USA winning Lifetime Achievement of the year, Deputy Chief Minister of Tamil Nadu, India, winning the International Rising Star of the year, Gwen Appleberry, Community Activist of the
year, and many other prominent personalities globally This award scheme is the largest multi ethic festival in Chicagoland U S A organized by American Multi Ethnic Coalition Incorporation and Dominic is the first Ghanaian to receive such honour in the history of the country as part of promoting social developmental initiatives globally.
Dominic Oduro-Antwi, President of Ghana – India Trade Advisory Chamber (GITAC) will soon call on the president of the republic of Ghana, Nana Addo Dankwa Akufo-Addo to officially present the first ever Ghanaian won health honorary of the Global Community Oscars Award to him to also discuss development strategies for Ghana's health sector His meeting with the President of the Republic will disclose some developmental strategies to support the health sector in Ghana through his experienced health research works and affiliations with the international healthcare firms and agencies such as the Indian healthcare authorities, European business communities etc…
The award ceremony was attended by people across the globe especially from 24 different ethnic communities and groups in Chicago, including African Americans, Mexicans, Latin, Americans, Indians, Irish, Germans, French, Greek, Ukrainians Russian, Philippines, Scandinavia, Nigerians, Indians Vietnamese, Chinese, Ghanaians, Sri Lankans, Pakistani, Middle East, Koreans, Japanese, Bangladeshi, and others including over 1000 individuals from various industries and sectors.
His effort is highly commended by the entire Ghanaian community for making the nation proud on the international front.