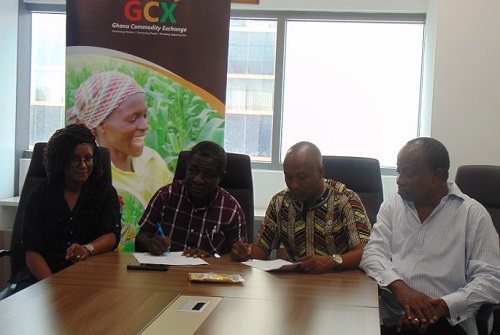 The Ghana Commodity Exchange (GCX) has signed a memorandum of understanding with the Cashew Industry Association of Ghana (CIAG), in which both organisations agree to work together on improving the cashew industry.
The signing took place at the GCX offices on the 8th of July 2019, between Dr. Kadri Alfah-CEO GCX, and and Mr. Aaron Akyea, Executive Secretary-CIAG. Also present were Mrs. Tucci Ivowi, Deputy CEO-GCX, and Mr. John Addaquay, Value Chain Advisor-CIAG.
The signing of this MOU is in line with the Exchange's plans to list cashew contracts on the electronic platform later this year or early next year, depending on getting a go-ahead from the Securities and Exchange Commission (SEC).
The GCX plans to work with CIAG on mobilising farmers to store their produce in GCX warehouses; grade and certify cashew to meet international standards; support price discovery mechanisms for buyers and sellers of cashew; and provide access to finance for cashew farmers.
Furthermore the two organisations will work together in training and capacity building for cashew producers to understand grading, certification, pricing and trading on the GCX platform.
The cashew sector is said to be one of the most promising economic boosters within the agricultural sector for Ghana, and is ripe for more investment and attention. Indeed, with the potential prospects for cashew production in the country, it is anticipated that the crop will increase from its current 90,000 to 400,000 metric tonnes in 10 years – with a processing capacity of about 90%.
The Ghana Commodity Exchange has an agenda to link Ghanaian small-scale farmers to commodity and financial markets in Ghana, and started trading in White and Yellow maize contracts during November 2018. The Exchange has recently added soya bean contracts to its list of traded commodities, and will soon add sesame seeds, sorghum, paddy and milled rice to a list of traded commodities.