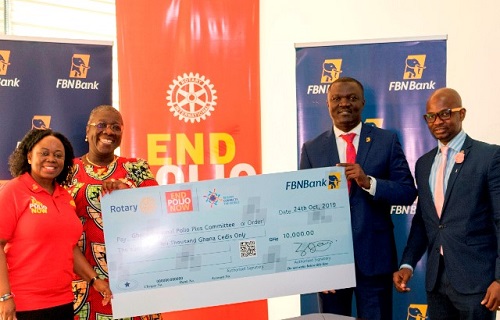 The First Bank of Nigeria (FBN) has donated an amount of GH¢20,000 to help fight polio in Ghana as the country joins the rest of the world to mark World Polio Day. A cheque for the amount was presented to five Rotary clubs and the Ghana National Polio Plus in Accra on Thursday.
The beneficiary clubs are the Rotary clubs of Accra, Tema, Accra West, Accra East and Ring road with each of the clubs receiving GH¢2,000 while the Ghana National Polio Plus received GH¢10,000.
The country team lead for Marketing and Cooperate Communication for FBN, Mr Enoch Vanderpuije who presented the cheque on behalf of the bank congratulated Rotary International for the good work they are doing to kick polio out of Ghana.
The World Polio Day was established by Rotary International to commemorate the birth of Jonas Salk, who led the first team to develop a vaccine against poliomyelitis.
The Chair of the Ghana National Polio Plus Committee, Past Assistant Governor, Nana Yaa Siriboe, in her address, touched on the contributions made by the club and its partners to help end polio now or in the shortest possible time.
The World Health Organization (WHO), United States Centers for Disease Control and Prevention (USCDCP), and the United Nations Children's Fund (UNICEF) have collaborated with Rotary International to help push polio out of the globe through the Polio Eradication Initiative.
Ms Siriboe said Rotary and partners have been able to immunize 2.5 billion children worldwide.
"In 2003, the Rotary Foundation raised US$119 million in a year and our contribution to polio eradication exceeded US$500 million", she added.
For her part, the country representative of UNICEF, Anne-Claire Dufay said remarkable progress has been made in the global fight to end polio.
"The number of wild polio cases have significantly decreased from 350,000 cases in 1988 to now it's 29 cases in 2018. So a lot of progress has been made", she said. Present at the event was a former Member of Parliament and renowned lawyer, Mr Sam Okudzeto.