With a major focus on driving business and revenue growth, Fidelity Bank has said the year 2019 will be better than previous years and position the bank as a critical driver of economic growth.
"We are optimistic that the year 2019 will be another great year for the bank as we focus on driving business and revenue growth, increasing operational efficiency and enhancing customer experience," Edward Efah, Chairman of the bank, said at the bank's annual general meeting which came off in Accra.
Mr. Efah noted that over the past 12 years, the bank's leadership has succeeded in building a strong and resilient local bank that is one of the best in the industry today. "We could not have achieved this feat without the unwavering commitment to the 'Orange vision' by our shareholders, board, management and staff over the years," he said.
He added that the bank continued to exhibit exemplary corporate governance standards consistent with the new corporate governance structure introduced by the regulator, the Bank of Ghana.
"The board, through its audit, risk, technology and staff welfare & remuneration sub-committees, and the various management committees, also worked together to ensure sound business practices throughout the bank. Through the regular review of policies and procedures, the board is satisfied that the systems in place are adequate to manage the risk inherent in the bank's business," he added.
Julian Opuni, Managing Director of the bank, noted that in 2019 the bank will begin its journey to achieve the reinforced mission of becoming an established top-three bank in Ghana by 2021 based on all key performance indicators.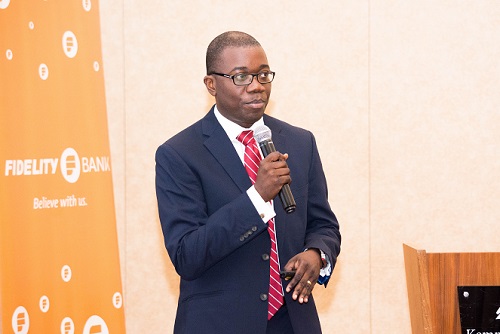 He explained that the target will be achieved through the best digital presence with a people-centred approach to product delivery; perfecting a strategic funding drive with a focus on best pricing and low risk; and reinforcing the bank's position as a market intermediator strategically leveraging long- and short-term instruments.
"Amid all the challenges 2018 presented, I am proud to say that your bank came out bigger and better. We enter 2019 with a clear strategy, an increasingly powerful brand and a strong balance sheet that places us in a good position for another great year ahead," he told shareholders in Accra.
2018 Performance
The bank closed the year with a balance sheet size of GH¢7.02billion, up by 30 percent from the 2017 asset position of GH¢5.38billion. The growth in the balance sheet comprises a 38 percent increase in the loan book to GH¢1.42billion; a 37 percent increase in investment securities to GH¢3.47billion; and a 14 percent increase in cash and cash equivalents to GH¢1.76billion.
This growth was largely funded by a GH¢500million increase in deposits from banks and other financial institutions representing a 13 percent growth; a 53 percent increase in stated capital. Total deposits and borrowings reached GH¢4.46billion and GH¢1.73billion respectively at the end of 2018, the total of which represents 90 percent of the bank's total liabilities.
Income statement Analysis
The year closed with significant improvements in its performance over the 2017 financial results. Net interest income grew by 23 percent from GH¢408million in 2017 to GH¢501million in 2018; while net fee and commission income rose by 56 percent to end 2018 at GH¢134million. This contributed to a 32 percent increase in operating income from GH¢523million in 2017 to GH¢690million in 2018.
The bank's strengthened credit risk policies also continue to yield significant returns, with net impairment loss on financial assets reducing by 17 percent. The bank also benefitted from better cost management strategies as the cost-to-income ratio reduced to 56 percent, down from 61 percent in 2017.
The year ended with a 79 percent increase in profit before tax to GH¢242 million and an 82 percent increase in profit after tax to GH¢164million. The board proposed a dividend of GH¢1.28 per share for this year. This represents a dividend growth of 83 percent from the 2017 dividend payment of GH¢0.70 per share.