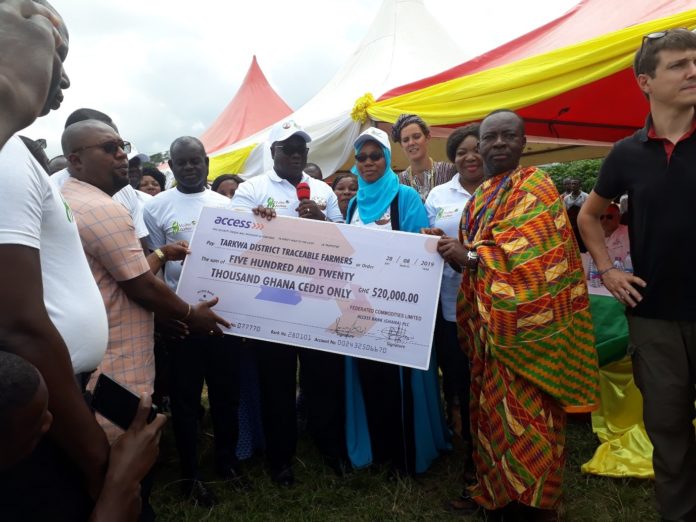 Federated Commodities Limited (FEDCo), in partnership with Walter Matter and Valrhona SA, has constructed a six-unit classroom block with toilet facilities and a mechanised bore-hole for the Atwereboanda M/A Junior High School in the Prestea Huni-Valley Municipality of the Western Region, at a total cost of GH¢8885,882.
"FEDCo is a Licenced Cocoa Buying Company, and Valrhona SA is a company in France that buys cocoa produced from the Prestea Huni-Valley district through FEDCo and Cocobod, while Walter Matter is a registered cocoa buyer in Switzerland."
Also, these companies have paid a total of GH¢520,000 as premiums to 1,100 cocoa farmers in the Prestea Huni-Valley Municipality. The premium is for 1,300metric tonnes of cocoa lifted under the traceable programme for the 2018/2019 cocoa season, and GH¢25 is paid on a bag of cocoa beans as premium.
The premium is the highest paid in the Prestea Huni-Valley Municipality, Western Region and country as a whole.
Hajia Maria Adamu-Sibo, Managing Director of Federated Commodities Limited, speaking at the ceremony noted that the cocoa industry is going through a phase it has never seen before, in terms of the calibre of Licenced Buying Companies (LBCs) on the ground.
"Certification, traceability, digitisation of the supply chain or mobile money payment, among others, are creating transparency and fair deals to the farmer; the activities involved in cocoa farming are very tedious, and we praise our hardworking farmers for the efforts they put into producing the best cocoa beans in the world," she said.
Therefore, she encouraged cocoa farmers to continue taking their time to work on their cocoa beans properly, so as to avoid reasons for supplying extra beans to the Purchasing Clerks (PCs) to make up for the loss in weight.
Also, she entreated PCs to desist from accepting cocoa that does not meet the specifications as defined by Ghana Cocobod, and appealed to District Managers to regularly check the scales of their PCs to ensure that they are properly calibrated.
On the issue of child labour on cocoa farms, she stated: "No FEDCo farmer in the Prestea-Huni-Valley Municipality has been found to engage in such practices, and we encourage you to keep it up.
"Our partnership with Varlhona in Tarkwa has led to the construction of six-unit Primary School block as well as a Community Centre with ICT and library at Wassa Nkran and a three-unit KG block with a library and ICT facility at Pieso; as well as donated books to eight basic schools across various communities in the district," Hajia Adamu-Zibo said.
She added that FEDCo has begun renovating the primary school block at the same Atwereboanda school.
She expressed gratitude to Cocobod and its subsidiaries for putting in place proper structures that facilitate certification of FEDCo and its partners' programme. "We request that Cocobod continues to ensure that cocoa purchasing by LBCs is done in accordance with the laid-down rules, and that no unhealthy practices are accepted."
Major Ebenezer Doku (Rtd.), Head of Intelligence and Security at COCOBOD Western North, mentioned that several productivity enhancement interventions have been introduced in the form of mass pruning, hand pollination, irrigation and many more incentives geared toward making the cocoa farmer regain his glory and dignity.
"The recent successful negotiation of the cocoa beans' floor price and top-up living income differential have made the cocoa farmer very enthusiastic and expectant," he said.
He added that cocoa farming has become a business, and every farmer should take interest in the maintenance of his or her farm by adopting good agronomic practices to take advantage of and enjoy the benefits that come with them.
Madam Clementine Alzial, leader of Valhrona, was happy about the school project and the premium: "We create strong link by using cocoa from Ghana for chocolate and cocoa cake".
She called for a continued relationship between the company and cocoa farmers: "We will continue to lend our support so you are able to produce more".
Cedric Robin, an official of Valhona, said the company will ensure that cocoa farmers produce quality cocoa for consumption.
He urged beneficiaries of the school to take their education seriously, and appealed to chiefs and management of the school to value the project and make good use of it, as well as encourage parents to give quality education to their children.
Madam Mary Vida Kwofie, Prestea Huni-Valley Director of Education, was hopeful that the project in the area will promote quality education.
She appealed for teachers' quarters and urged the chief and community leaders to ensure regular maintenance: "Security and safety of the children is assured since you have a new building; therefore, parents should ensure regular attendance of their wards".
Nana Adu Kwamena II, Chief of Atwereboanda, expressed appreciation to FEDCo and its partners for the school. This will attract teachers to accept postings to the area.
He urged farmers to continue working hard and produce more cocoa beans for FEDCo and its partners, and appealed for a community centre.
Nana Thomas Boakye, Chief Farmer of Atwereboanda, urged cocoa farmers in the district to continue selling their cocoa beans to FEDCo for development to thrive in the area.
"This will encourage the company to do a lot of Corporate Social Responsibility (CSR) projects and call for an increment in cocoa price," he added.
Mozart Owu, Prestea Huni-Valley Chief Executive Officer, praised FEDCo for the developmental projects it continues to carry out in the area.
He entreated parents and guardians to ensure children of school-going age are in school: "This initiative will break the irregularity gap in the standard of living, and I urge parents not to engage children of school-going age on their cocoa farms".