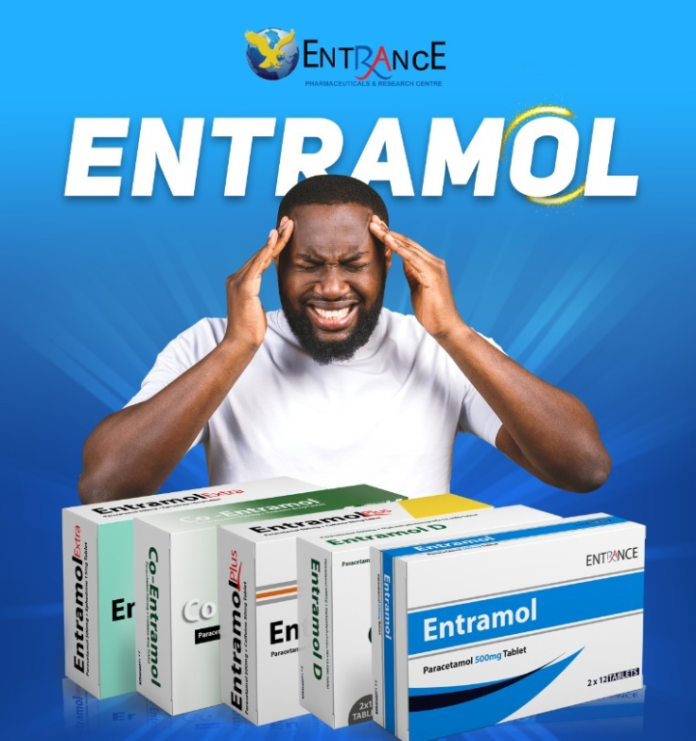 Entrance Pharmaceutical and Research Centre (EPRC), the leading pharmaceutical research company in the country, has launched Entramol, its latest stress-free painkiller into the Ghanaian market.
A premium brand, Entramol is made of paracetamol combinations and comes in the form of a caplet, a coated oral medicinal tablet, making it easy to swallow. Entramol also comes in ranges which include, Entramol, Entramol Plus, Entramol Extra, Entramol D and Co-Entramol.
It is a 500mg strength of paracetamol per caplet which relieves pain faster and manages headaches, fever and general mild body pain.
A statement from Entrance notes that Entramol is scientifically made to bring relief to both the young and the old.
"Entrance Pharmaceuticals & Research Centre is committed to ensuring that every product it manufactures and distributes will consistently meet the preset standard of quality, efficacy, safety and affordable healthcare products throughout Africa," the statement added.
Entramol Plus
Entramol Plus is Entramol enhanced with very little amount of caffeine for an enhanced effect. This makes it useful in the management of more severe headaches like tension headache and migraine.
Entramol D
Entramol D is enhanced with diphenhydramine 12.5mg that provides fast relief from headaches, fever associated with cold and flu. It also gives relief from symptoms such as sneezing, runny and itchy nose especially night time cold where relaxation is necessary. For adults and children above 12 years, two (2) caplets should be taken 20 minutes before bed time. The product may cause drowsiness, use with care when driving or operating machinery.
Entramol Extra
Entramol Extra is a paracetamol 500mg and ephedrine 15mg per caplet that is indicated for the management of mild to moderate pain and headaches strongly associated with cold, flu and catarrh. The ephedrine in this combination helps to give a fast relief from nasal congestion associated with catarrh without causing any drowsiness.  The recommended dose of Entramol extra for adults and children above 12 years is one (1) to two (2) caplets two (2) to three (3) times daily not exceeding six (6) caplets in 24 hours.
Co-Entramol
Co-Entramol is an advanced form of Entramol that is indicated for the management of acute and chronic moderate pain, as directed the physician.
Entrance Pharmaceutical and Research Centre (EPRC) is the research arm of Tobinco Pharmaceuticals Limited, the leading marketing and distribution pharmaceutical company in Ghana and abroad.
The quality management system at EPRC involves every worker including top management in the conduction of management reviews and quality audits, Total compliance to cGMP, Execution of Company's Quality Manual, Independent working activity of QA, QC and production.