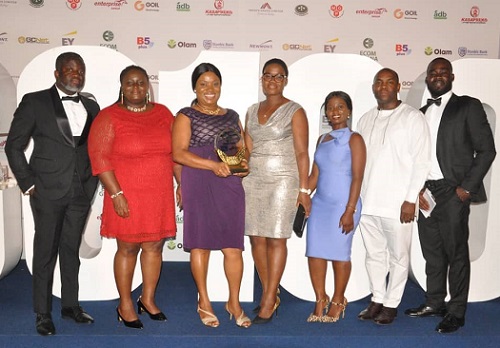 Enterprise Trustees has been adjudged the 17th Company at the 2019 Ghana Club 100 Awards. The event was organised by the Ghana Investment Promotion Centre on the theme 'Sustainable Agriculture: The Bedrock of Ghana's Industrialisation Drive'.
The Ghana Club 100 (GC100) is an annual compilation of the top 100 companies in Ghana, giving due recognition to successful enterprise building and awarding corporate excellence.
Receiving the award on behalf of the company, the Assistant General Manager-Operations at Enterprise Trustees, Ms. Hilda Owusu, expressed gratitude for the recognition and pledged the company's commitment to serving its customers better.
"Our pledge is to continually deliver legendary customer experience to our consumers through innovative products and services.  To all our customers, 'thank you' for believing in us and trusting us to give you all the Advantage you desire."
Since 2016, Enterprise Trustees has consistently maintained its membership as the only Corporate Trustee in the prestigious Ghana Club 100 Awards.
Enterprise Trustees is the Pensions subsidiary of Enterprise Group Limited (EGL), licenced by the National Pensions Regulatory Authority. It is the first, and still only, Corporate Trustee in the prestigious Ghana Club 100.
About Enterprise Group
Enterprise Group Limited (GSE: EGL) is a financial services company comprising five operating companies: Enterprise Insurance Company, Enterprise Life Assurance Company, Enterprise Trustees, Enterprise Properties and Enterprise Funeral Services Ghana trading as 'Transitions – The Funeral People'. It is headquartered in Accra and has operations in The Gambia.