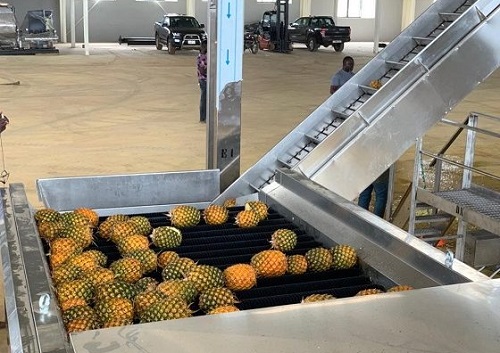 Government's flagship programme 'One District, One Factory' which is meant to create jobs and alleviate the rate of poverty in districts and communities is beginning to gain ground.
Alliance for Development and Industrialisation (ADI) checks have revealed that the Ekumfi Juice Factory, which is near completion, will create 5,000 direct out-grower jobs within the community and its environs.
A press statement issued in Accra and signed by Godwin Arthur, Convener of the group, said the factory will process about 300,000,000 packs of juice annually for the local and export markets, and will generate close to GH¢530million in revenue.
The facility will be the biggest pineapple-juice processing factory in West Africa, with the capacity to process 10 tonnes of fruits per hour.
"The Ekumfi Juice Factory is currently the largest pineapple-juice processing factory in West Africa, and it has put Ghana on the international radar with regard to competition of fruit juice products on the export market," the statement said
"ADI has learnt the juice that will be produced at the factory won't be made from concentrate; and also there will not be any additives added – putting the product ahead of its competitors," it said.
"We at ADI attached ourselves to the commitment of the chiefs and people to this project so much, which makes it imperative that this project has come to stay. ADI has continued to monitor all these, and can attest to the fact that the Ekumfi Project will be one of the largest source of revenue for this country," it said.
According to the ADI, If government could replicate such projects in 10 regions, the country would accrue total revenue of GH¢5.3billion per year.
"We again commend government for the short 18-month duration taken for construction of this factory. From our records, such a thing has never happened in the history of this country.
"We are of the view that with the district and community partnership, this factory will transform the people's lives," it said.
The Ekumfi Pineapple Processing Factory is the first factory to be constructed under government's 'One District, One Factory' project.
The factory is sited on a 50-acre land and has 100-metres length and 50-metres width of factory floor space – large enough for additional production work.