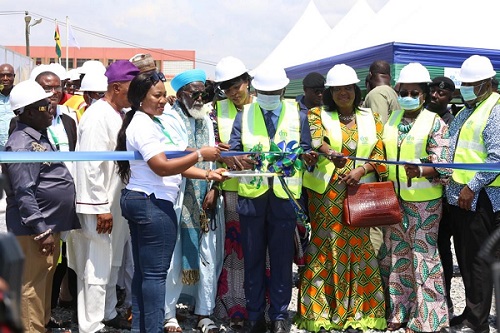 Dredge Masters Limited, an indigenous company specialized in dredging of major storm drains in the country, has out doored its new Watermaster Amphibious Dredgers (Classic V) at its operational site in Accra.
The newly acquired machines with the latest cutting-edge technology for shallow water dredging, has the ability to combine different works that will otherwise require separate machines, like cutter dredge, backhoe, and others for raking, and piling
Speaking at the unveiling ceremony, Managing Director of Dredge Masters, Captain Ansar Ahmed Khan, noted that the move to acquire more powerful machines for dredging is as a result of the company's commitment to improve the environmental situation and help control floods.
"Dredge Masters is geared to reduce the incidence of perennial flooding through sustained dredging campaigns and other related measures. We acquired these dredgers to add to our existing fleet to further save lives through our operations. The production by these dredgers is about 50% higher. These dredgers will augment our capacity to control floods and dredge rivers, lagoons and dams, among others," he said.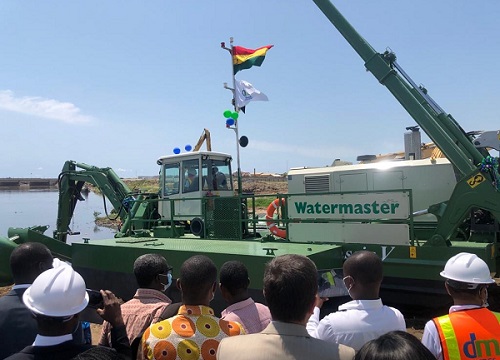 Mr. Khan further appealed to Ghanaians, especially communities near water bodies to desist from damping refuse into the drains and waters.
The Minister for Works and Housing, Samuel Atta Akyea, who was the Special Guest of Honour at the event, lamented about how much resources government has had to invest in desilting, something that could have been prevented.
"I came to meet what we call drenching and desilting arrangements. The highest money we have received so far to do what we call desilting in the entire country was in 2018. There was an extra budgetary allocation of GH200million for us to contain the flooding situation in this county. It is all because of one simple challenge that we have–our culture of waste management.
The Minister also implored the citizenry to have a change of attitude towards the environment.
He added that it was because of the ongoing dredging by the company that has reduced flooding in the past couple of months even as the country records heavy rains.
The Minister expressed profound appreciation to the Chief Executive Officer of Jospong Group of Companies and its subsidiaries like the Dredge Masters for the efforts in dealing with the country's waste and environment as a whole.
The wholly Ghanaian owned dredging company offers sustainable and environmentally friendly solutions for flood control, urban drainage, inland dredging, dams and reservoir dredging, near shore dredging, environmental, civil works and project management, among others.