Annually on every May 28, Menstrual Hygiene Day (MH Day) is celebrated to raise awareness to combat taboos associated with menstrual hygiene, with the goal of enabling women and girls to achieve their full potential.
Globally, more than half of women are currently of reproductive age—and menstruation is a monthly reality. Yet all around the world, many women lack access to menstrual hygiene products or sanitation facilities, either due to limited availability or excessive cost. Myths and stigmas surrounding menstruation causes some women and girls to miss school or work and even drives them into isolation. Women and men of all ages must be made aware of the importance of menstrual hygiene through open dialogue and education at home and in schools to foster engagement with this often unspoken issue.
The theme of Menstrual Hygiene Day 2019—It's Time for Action—not only emphasizes the urgency of this public health issue, but also highlights the transformative power of improved menstrual hygiene to empower the world's women and girls and unlock their economic and educational opportunities. MH Day brings together non-profits, government agencies, the private sector, the media, and individuals to advocate for and promote the importance of good menstrual hygiene management (MHM).
The Chief Executive Officer of Divine Group International Foundation (DGI), Mr Ebenezer Kofi Adu-Lartey, stated that their sanitation programs are designed to meet the specific needs of women and girls. MHM is a critical aspect of addressing women and girl empowerment by alleviating a major constraint to their participation in education and public life. DGI's work in this area includes providing standard for WASH facilities in Schools and Health facilities, creating educational resources, promoting the availability of MHM-related supplies, and destigmatizing menstrual hygiene.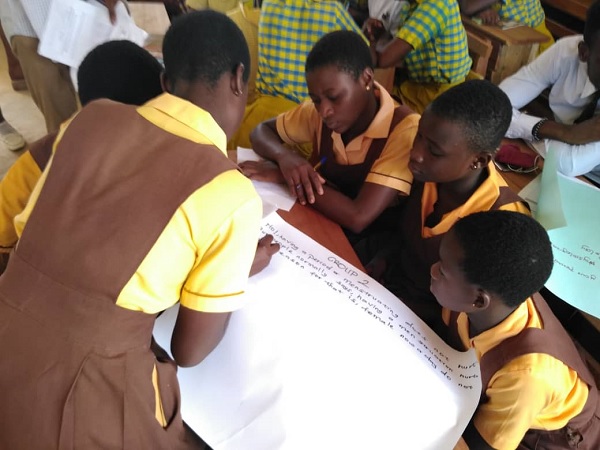 The provision of adequate and safe sanitation can promote gender equity and reduce inequalities, which, in turn, contributes to the achievement of the Sustainable Development Goals (SDGs), and the erosion of long-standing discrimination and societal norms that reinforces traditional roles, prejudices, and expectations.
The day was celebrated with an awareness and education drive, where 100 students selected from ten basic schools within the Ga Central Municipality converged at the Omanjor M/A school to celebrate and commemorate the day. Students from the various schools were then put in knowledge sharing and discussion groups; after which each group made presentations in a competition to see who comes out tops on Menstrual Hygiene issues. Free sanitary pads were then distributed to all hundred selected students.