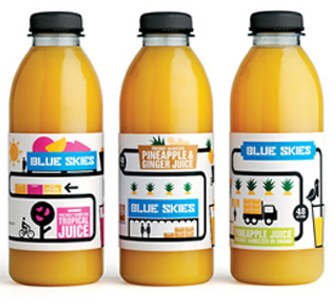 Fruit juice manufacturing company, Blue Skies, is seeking government's support to help curb the dreaded bacterial black-spot disease that afflicts mango plants.
The disease attacks mango trees and weakens their branches, leading to premature fruit drop.
According to the Chairman of Blue Skies, Dr. Anthony Pile, it is a challenge to the company and is one area they are keen on engaging government in – particularly the Agriculture Minister to 'come over and give assurances' on how to control it.
"We would love to have the Agric Minister here to help us on how to solve an age-old problem that is threatening to wipe out our mangoes," he told the press when the Minister for Trade, Alan Kyerematen, paid a familiarisation tour to the factory at Dobro, Nsawam.
Dr. Pile said the Free Zone Company is waiting keenly for full implementation of the European Partnership Agreement (EPA), so it can supply more of freshly produced fruit-based bottled drinks to the Ghanaian market.
"We definitely need that to be in place so we can be able to supply to our brothers and sisters here in Ghana," he said.
Market challenges in West Africa
Dr. Pile also indicated that they aim to achieve growth and market penetration within the ECOWAS countries; however, rising tariffs at various entry points of countries in the West African sub-region are becoming a challenge.
"If you travel from Aflao to Togo, Benin and Lagos, you experience 26 roadblocks and they relieve you of money. You ask whether we are truly ECOWAS. It is so appalling," Dr. Pile said.
Minister for Trade and Industry, Alan Kyerematen, lauded the 'remarkable' work Blue Skies is doing in the area of employment, particularly the creation of opportunities for women.
He also stated that it is a model that government is seeking to replicate throughout all regions in the form of 1D1F programmes.
"This is an example of how we can exploit global value chains within our sub- region. You have seen truck loads of pineapple from Benin and others. It means apart from what they produce locally, they source some of their products from other African countries," he explained.
On the ECOWAS barriers, he indicated that government is working closely with its counterparts in Nigeria, Togo and Benin on how to ensure an open market devoid of these setbacks.
Blue Skies delivered 20,000 tonnes of cut fruits (mango, pineapple) in 2018; and with nine factories already, they are seeking to put up another one to augment their production.
About 96 percent of what they produce go to 22 different retailers abroad.
They employ over 3,500 workers and have a production capacity of 1,000 tonnes per week.