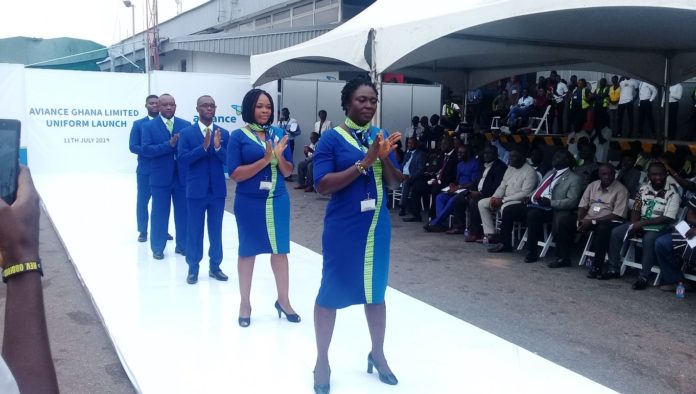 Aviance Ghana Limited has launched its new set of corporate-wear for its staff and personnel.
The launch of new corporate-wear is part of the company's rebranding process to change its image – "signifying the birth of a new entity" said Mr. Mark Kamis, Managing Director of Aviance Ghana.
Speaking at the launch and exhibition, the managing director said that with the launch of new Aviance Ghana uniforms, the brand now offers one of the most comprehensive and innovative workwear solutions in the marketplace.
He said that it will drive motivation and also serve as a strategy to enhance the quality of service delivered by staff, as well as enable the brand to provide a wide range of businesses with its familiar rugged and durable products.
"I think when you rebrand your image with a new uniform, it drives motivation within the employee group; and, also, what's really key to this launch is that the employees actually designed this uniform themselves. It didn't come from the management as expected," he said.
"The reorganisation of our service programme will allow the company to accommodate customers' workwear demands; whether they need pants for a crew of 20, or need to outfit an entire operation. So far, reaction from the market has been very positive," he added.
Also speaking at the event, Vincent Sowah Odotei-Deputy Minister for Communications, described the process as undoubtedly a good way of providing a new service to foster customer satisfaction and serve as a morale-booster for personnel and service.
He said: "This serves as a catalyst to enhance efficiency and effectiveness in service delivery, as well as to build the institution's success with a new vision and goal for overall service delivery and ensuring global presence and competitiveness".
He urged all staff and personnel of Aviance Ghana to help champion the course of this rebranding issue as new way of doing business and a new way of dealing with customers, as well as a new way of ensuring that this newness stands the test of time.
Yaw Afful, special guest of honour who represented the Aviation Minister, Joseph Kofi Adda, also stated that it is the ministry's expectation that the path they have chosen will go a long way to adequately complement government's vision for the aviation sector.
He assured them of the ministry's support for growth of the company.
"For us as a ministry, our doors are always open. We always welcome you to come and deliberate on issues within your business and for development of the aviation sector.  Let us make good use of the expertise at our disposal and work together to develop the aviation industry," he said.