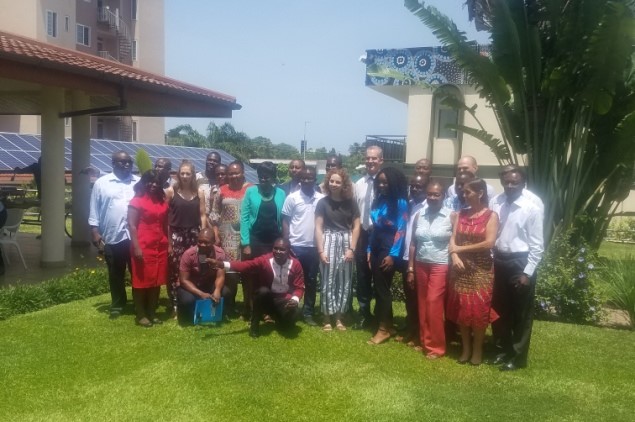 In a bid to combat discrimination against current and former prison inmates, and to improve their mental health and well-being, the Australian High Commission has extended support for the Fair Justice Initiative to deliver millinery skills workshops to female prisoners in Greater Accra.
This is part of efforts to provide solutions for the stigma against incarceration as well as provide programmes that will benefit the quality of living for women at the Nsawam Women's Prisons.
Although efforts to end discrimination against current and former inmates, ensure equal access to effective legal representation, and to improve the conditions of confinement have been in the news for a long time, not much is known about what happens to convicts who come out of prison and their re-integration into society.
Convicts in and out of the nation's prisons become emotionally and psychologically unstable, and thus have to be supported to overcome such challenges.
This is one of the many projects that the Australian High Commission is supporting this year under its Direct Aid Programme.
Out of 240 applications, the Commission in Ghana chose 20 new projects for the year 2018-2019. The projects cover a range of sectors: including education, health, water and sanitation, environmental protection, women's empowerment and gender equality, food security, economic livelihoods, human rights, and support for Persons With Disabilities (PWDs).
The Direct Aid Programme (DAP) also aims at supporting underprivileged communities in developing countries.
Under the DAP, which started in Ghana in 2004, non-governmental organisations that provide such services are given grants by the Commission to fund their projects after they have presented a comprehensive plan in that regard. It also has the flexibility to work with local communities in developing countries on projects that reduce poverty and achieve sustainable development, consistent with Australia's national interest.
The projects, estimated at one million Australian dollars (approximately 3.7 million Ghana cedis), are being undertaken in seven African countries: namely Ghana, Côte d'Ivoire, Liberia, Burkina Faso, Sierra Leone, Togo and Mali.
They are expected to be completed over the next 12 months.
Of the 20 projects, eight are being executed in Ghana with almost half of the entire budget.
Also, among them is the Ghana Australia Alumni Association's project with the Greater Accra office of the Domestic Violence and Victims Support Unit (DOVVSU). It is aimed at providing logistical and capacity-building support to the unit and strengthening its educational campaigns on domestic violence.
At the projects' launch in Accra, the Australian High Commissioner to Ghana, Mr. Andrew Barnes, said the intervention is necessary to address basic needs of the most vulnerable people in society – mostly women, children and PWDs.
He lauded the various non-governmental organisations under the programme for their initiatives, and urged them to work hard on achieving their various goals and visions.
"As local development organisations, you understand best the needs and challenges of your communities. Your work is key to ensuring that development benefits everyone, including people in remote and underserved communities," he said.
He commended them for being selected to participate in the programme, and pledged his resolve to support their work.
Speaking to B&FT, the Director of Programmes-Fair Justice Initiative, Ms. Rose Worster, said the purpose of their mission is to promote the well-being of the prisoners and to psyche them up to better place themselves in society once they were released.
She added: "We also want to give them access to income in the prisons and empower them to be able to service their own cost of living, including the payments of medical bills and food".