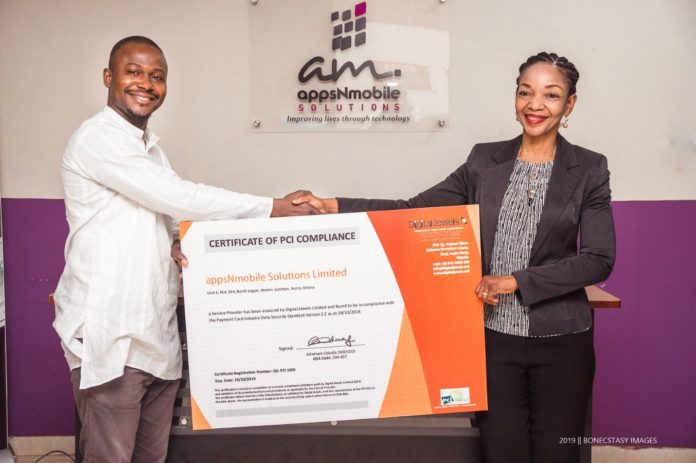 appsNmobile Solutions, a FinTech company that provides software solutions and enables payments, has acquired a Payment Card Industry Data Security Standard (PCI DSS) certification from Digital Jewels – a PCI DSS certified quality firm – to enhance its operations.
A PCI DSS is an information security standard developed to protect credit, debit and cash card transactions and prevents the misuse of cardholders' personal information.
According to the Chief Executive Office of appsNmobile, Richard Bansah, the move to acquire the PCI DSS certification is to curb the increasing pace at which Ghana's cyber space is hacked and the risks involved in exposing client's data.
He added that: "This move came in to also avoid being sued or risking the data and security of our customers. It builds our credibility, secures our system and gives our customers assurance. We decided to embark on this journey also because of increasing requirements by some of our partners that needed a company that was PCI DSS certified. So rather, than lose the opportunities that may come out of this, we decided to go through the process and be ready for any opportunities that may come."
Mr. Bansah advised other organisations looking forward to acquiring the PCI DSS certification to follow suit as soon as possible since the process could take up to a year.
He explained that appsNmobile can now assist young Ghanaian companies to enable payments on their websites. He said, by so doing, these companies will have a secured credible payment platform on their website for online payments.
"Other than that, they will have to be redirected to another website in order for their customers to have a secured payment portal. So, basically, we can now enable or empower them to receive payments on their own portals. What it also means is that the data we collect is secure", said Mr. Bansah.
The CEO added that appsNmobile is focused on securing the information of its clientele and therefore trains its workers on how to secure information both internally and online.
He said: "We take our staff through both technical and in-house trainings where they are trained on how to even trash out hardcopy documents because the weakest link in the chain is always the place that gets broken. We do a thorough background check on our staff to make sure that information of our clients is well secured."
He added that there is a lot of vulnerability in the cyber space and Ghana is very susceptible to cyber-attacks. He therefore advised banks and other FinTechs to undergo the process of acquiring a PCI DSS as soon as possible to avoid exposing customer data.
On her part, CEO of Digital Jewels, Adedoyin Odunfa, applauded the appsNmobile for their initiative in making customer data and cyber space more secured. She said the move will go a long way to build their credibility and open more opportunities for the company.
According to her: "The PCI DSS standard helps you to protect the data in either processing, storage or transmission.  appsNmobile has done this very rigorous process and it will be a competitive advantage for them because they are one of the few FinTechs that have gone this way.  They are several banks today that are not PCI DSS certified.
Madam Odunfa added that Digital Jewels has given certification to many companies across Africa and therefore advised that acquiring the PCI DSS at an early stage gives a competitive advantage instead of a competitive necessity.
She said she believes acquiring a PCI DSS certification will become a denominator for doing business in Ghana by 2021.