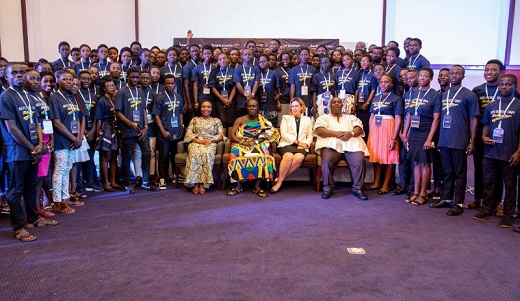 Aker, in partnership with Ghana National Petroleum Corporation (GNPC), has awarded scholarships to 150 'brilliant but needy' students in the coastal districts of the Western Region.
Since introduction of the Free Senior High School Policy, the scholarship has been reviewed to cover school materials such as a trunk, chop-box and books. Other elements of the scholarship programme are counselling and monitoring, career seminars and frequent visit-checks on the well-being and academic performance of beneficiaries.
Mrs. Bernice Sam, External Relations Manager of Aker Energy, said the scholarship programme started with six partner Senior High Schools and presently has 10 partner SHS as well as a nursing and a vocational school where the children are placed.
Selection of the beneficiaries, according to her, is spread across the coastal districts of the Western Region; and over the years, the intake has increased progressively.
She mentioned that for a student to qualify for the scholarship, s/he must have schooled and lived in a coastal community and attained an aggregate of at most 24 on Basic Examination Certificates Examination.
"If the student has a disability but has gained the required aggregate to be in Senior High School, s/he gets an automatic scholarship, and the students should have selected one of the partner schools," she added.
"Beneficiaries for year 2012 were 71, 2013 and 2014, 100 students for each year; that of 2015 to 2017 was also 125 students per each year, and 2018 was 150 students. In 2019, we expect to take 200 students," she added.
"Aker Energy and our licenced partners see the need for these scholars to transition from secondary to tertiary level; therefore, we are in the process of developing a tertiary level scholarship programme which we expect to roll out soon," she said.
Deputy Western Regional Minister, Mrs. Gify Kusi, noted that education is fundamental to development and growth of the human mind; it makes possible all development achievements – from health advances and agricultural innovations to efficient public administration and private sector growth.
"For our country to reap these benefits fully, we need to unleash the potential of the human mind, and there is no better tool for doing so than education. There is a need to remove the barriers to education-delivery; if these barriers are not removed, it will be impossible to achieve the objectives of teaching and learning," he said.
She pointed out that financial assistance is a necessity for many students, and that scholarships have unique benefits and are the most desirable form of financial aid because they enable meaningful access to education.
According to her, the Aker Energy-GNPC Scholarship Programme has had a significant impact by supporting 794 brilliant but financially constrained students to enrol in high school, technical, vocational and health institutions in 2012.
She explained that before the programme's inception, a rigorous needs-assessment exercise was conducted hand-in-hand with relevant government agencies and bodies in the coastal districts, where Education is identified as one of the most pressing needs. The comprehensive package provided by the programme is indeed laudable, and a proof that international oil companies working within the Western Region can contribute to real and sustainable development in Ghana.
"It is my hope that Aker Energy-GNPC scholars will be a blazing trail that certainly auger wells for the future of Ghana in the coming years. I exhort this graduating class of Aker Energy-GNPC scholars to keep raising the bar for academic performance and discipline, and so become examples in their various communities. And I urge the beneficiaries to take advantage of the support, learn hard, and focus on the greatness ahead, because the Western Region and Ghana are waiting on you to come out and be great businessmen and women," she added.
Carmen Bruce-Annan, Head of Corporate Affairs-GNPC, entreated the beneficiaries not to take the scholarships for granted and give meaning to the investment.
The scholars were happy that at least they will be able to further their education and become responsible citizens to contribute their quota in the country's development.