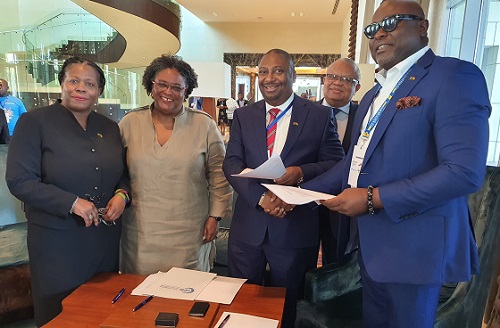 Akaditi.com, a Ghanaian indigenous transformation technology company, has signed a Memorandum of Understanding (MoU) with Global Integrated Fintech Solutions (GIFS) of Barbados that seeks to deepen relationships between Africa and the Caribbean via e-commerce.
Looking to bring e-commerce products and services to 1.3 billion people in the Caribbean and Africa, this partnership is expected to boost relationship between two sides of the globe that hardly do business together despite similarities in culture, outlook and potential.
The signing took place on the sidelines of a business-to-business investment summit organised by Invest Barbados (The Investment Agency of Barbados), and was witnessed by the Prime Minister of Barbados, Mia Amor Mottley, who was in Ghana for an official visit that saw her address business leaders, government officials and take in a meeting with President Nana Akufo-Addo.
Nana Bambara-Abban, Chief Executive Officer (CEO) of Akaditi.com – signing on behalf of the Ghanaian company, explained that both companies conduct similar businesses and it is a major step in the right direction to join forces and bring their businesses to the people of both worlds with the best technology and at cheaper cost.
"We have comprehensive payment and shopping platforms in Ghana and Africa, and our counterpart GIFS also has a similar system; therefore, integrating the two would boost e-commerce delivery on both sides. We are doing similar things in different regions, but now we can come together and do similar things to continue boosting the south-south relationship. We are integrating the two companies in terms of technology," he said.
Dave Sahadath, Founder of Global Integrated Fintech Solutions (GIFS) said: "We are delighted to partner with Akaditi.com and are looking to boost trade and investment in the near-future. This opportunity has also given us a chance to work with the youth, since the population in Africa is an incredibly young one, mobile and tech-savvy," he said.
The Ghanaian partnership with Barbados counterparts will allow customers to buy goods immediately across the continent of Africa and the Caribbean. It will also permit merchants in Africa and the Caribbean to sell their goods via a platform that is powered by artificial intelligence.
Again, customers will now have access to affordable credits of US$1,000 dollars or less in their mobile wallet on their mobile phone devices using artificial intelligence to qualify for credit. This is a first for Africa and the Caribbean. "Entrepreneurs who do not have access to online e-commerce can now showcase and sell their goods to the world using this e-commerce platform," he said.
The Prime Minister of Barbados, Mia Amor Mottley, reiterated the need to leverage opportunities with countries of similar vision and purpose to boost trade on the continent. Touching on the partnership, she lauded the two companies for their efforts – adding that Barbados is already in discussions with other countries for more coordination to drive growth.
The seminar explored mutually beneficial opportunities for the two countries; particularly in financial services, medical tourism, wealth management, renewable energy, Information and Communication Technology (ICT), insurance, global education and Financial Technology (fintech).