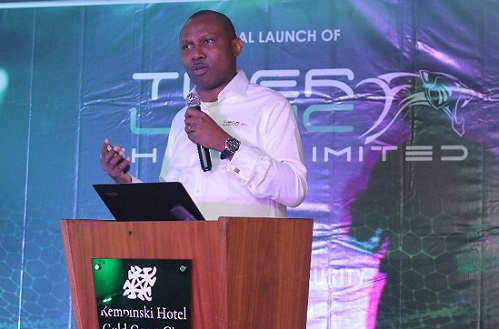 The Chief Executive Officer of TigerLogic Africa, Dejo Claudius-Akinyemi, says there is a huge potential for Africa's IT industry, which the continent must utilise to propel its development.
"The growth of IT in Africa is enormous, and there is a huge potential for the industry. Everybody talks about Africa as an emerging economy.
"We have not modernised a lot of things. We have not modernised electricity, so there is a huge potential in Africa. Africa is the hub of IT.  I am talking of industry-specific solutions that drive digital adoption," he said.
He said the Internet has come to define how business is done, so there isa need for companies to go along with it to ensure growth of their businesses.
"No business will survive without digitising. Now, people want to consume products and services on the go."
Mr. Claudius-Akinyemi was speaking at the launch of Tigerlogic office in Accra, and said there are many opportunities available for the continent to develop its IT infrastructure so it can compete with world IT super-powers.
He said TigerLogic has for the last 7 years since it started operation helped many companies to set up their IT infrastructure, as well as digital platforms to serve their numerous clients.
He said TigerLogic, which is a focused IT Security and Service Assurance company, is a client-centric in its approach.
The company's capabilities, he mentioned, are in digital infrastructure solutions, IT security solutions, and advanced facilities & network solutions.
According to him, the company provides solutions that are aligned with its clients' environment and requirements, and does not push products onto its clients.
Mr. Claudius-Akinyemi said the company leverages its partnership with the leading global OEMs and financial institutions to offer clients appropriate solutions and financing models which support their buying decisions.
"Client-centricity is at the heart of all we do – it is critical to our vision and strategy, and it is our priority and key differentiator. We offer fit-for-purpose solutions and deliver services that are measurable – thus positioning us as our clients' trusted advisor.
"Our clients are our greatest assets, so we value initiative, teamwork and achievement. Together, we focus on providing the highest levels of service so we can deliver our ultimate goal – your satisfaction," he added.
TigerLogic works in partnership with some international IT brands, such as Oracle, CISCO, McAfee, RAPID, Trend Micro, opentext, Dell EMC among others.