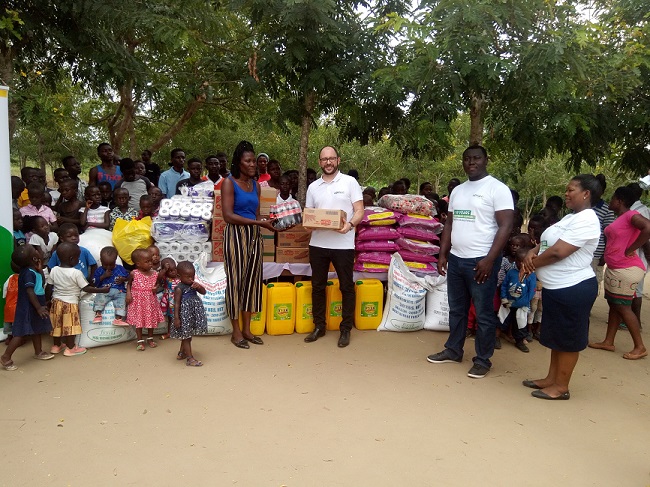 Advans Ghana savings and loans company Limited, a network of greenfield Microfinance Institutions (MFIs) in Africa and Asia, has donated some items to the Royal Seed Home (RSH), in Kasoa
The donation event is part of activities earmarked to end the 10 years anniversary celebration of the organization which started last year.
Items worth about GH¢50,000 donated to the orphanage include; bags of rice, gallons of cooking oil, boxes of tomatoes, noodles, boxes of soaps and  stacks of toiletries. Others are bags of water, assorted drinks and biscuits among others.
Chief Executive Officer of Advans, Olivier Bailly-Bechet, reiterated the need to give back to society especially orphans and less privileged stating that the gesture was not a nine-day wonder but will continue to help the home especially in building more facilities.
"Advans Ghana as part of our 10 years anniversary decided to give back to society so we asked heads of our 19 branches nationwide to find within their communities people or Organisations that we can help and the Kosoa branch decided on RSH and so we are here to support them in the little way that we can.
We are touched by the story of the founder Madam Naomi and we hope these items will help them in the meantime and I hope we will continue to come here always to help them when we can," he said
The Founder , RSH, Naomi Esi Amoah, expressed her profound gratitude to Advans Savings and Loans for the aid, which she said, will help in ensuring the children have a comfortable life at the orphanage home.
She  further called on other corporate organisations and well to do individuals to come to their aid in providing the needed infrastructural needs to raise the orphanage to a higher standard and to also address the health and educational needs of the kids.
"Our most pressing needs now include; a generator or plant, vehicle (school bus & pick-up), food items and toiletries, laptops and books as well as building materials.
"These children will be highly grateful and will feel safer if the public come to our help in terms of our infrastructure needs," she stressed.
Mr. Olivier, also stated from the business perspective that Advans Savings and Loans, who's slogan is growing together, will continue to expand its operations across the country and provide assistance to people with viable business ideas who need financial assistance to develop their business.
"We are an international company with operations in Asia and other African countries and so we are well poised to do business in Ghana. We support Bank of Ghana's Idea of sanitising the financial sector and we are ready to comply with any regulation they would put in place.
Royal Seed Home's current population is about 130 with some being community members. Orphans here are within the category of children below one year to adults. Educational levels also runs from kindergarten, basic to tertiary with two of them currently undertaking national service.