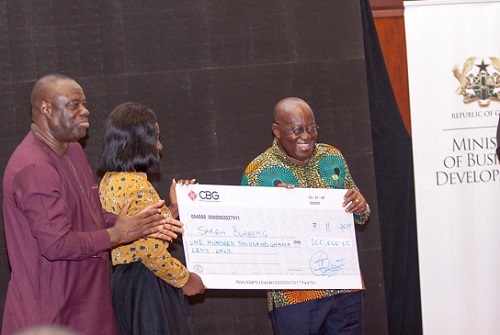 Three thousand young Ghanaian entrepreneurs have received seed fund as part of the second window of the Presidential Business Support Programme.
Beneficiaries received between GH¢10,000 and GH¢100,000 relative to their business proposition and need.
Held under the Business Development Ministry and the National Entrepreneurship and Innovation Plan (NEIP), these entrepreneurs were selected out of 19,000 beneficiaries of government's 'Presidential Business Support Programme' (PBSP), aimed at curbing unemployment – especially among the youth – through training and funding.
The amount, which is a loan payable annually at a rate of 10 percent, is to support these entrepreneurs start and expand their businesses and create more jobs through this process.
In his remarks, President Nana Addo Dankwa Akufo-Addo, noted that unlike traditional banks which have higher interest rates, the Presidential Business Support Programme has an interest rate of 10% and beneficiaries are expected to make full repayment of the facility within a 3-year period.
He said the private sector is a key component of government's job-creation agenda of bringing progress to the country. The Presidential Business Support Programme provides technological support, training, mentorship, funding and advisory services.
According to President Akufo-Addo, the criteria for eligibility of the programme include; the business being Ghanaian-owned; being a micro, small or medium-scale enterprise either in a start-up stage or an already existing business that needs support for growth.Also, the business must possess sustainability or a growth model; must have the ability to scale-up and employ others; and be prepared to go through an intensive structured entrepreneurship training programme and mentorship.
The areas of focus of the 3,000 businesses selected for funding cut across agribusiness and agro processing, Information Communication Technology (ICT), sports tourism and recreation, sanitation and waste management, green and ecological businesses, health food and beverages, fashion, clothing, accessories and beauty, media marketing and communications, manufacturing and industrial processing, real estate and construction, and transport logistics and professional services.
"The beneficiaries will receive continuous training and capacity development, mentorship and business advisory services, free accounting services, access to business networking opportunities and seed capital from the Business Development Ministry. All applicants underwent a well-structured training programme, conducted in fifty private incubation hubs across the country, to build their managerial capacity for their various ventures. Therefore, even though only 3,000 became beneficiaries of the facility, the remaining 16,000 are well-equipped to expand and grow their businesses", said President Akufo-Addo.
The president said he is encouraged that 19,000 Ghanaians applied, because it implies they are ready to start their own businesses. The beneficiaries, according to the him, are also expected to employ more people in order to reduce the rate of unemployment in the country.
"You must be able to create some thousands of direct and indirect jobs from employing other people within the next year", he said.
President Akufo-Addo admonished them to seize the opportunity provided by the programme and demonstrate their entrepreneurial ability.
On his part, Business Development Minister, Dr Ibrahim Mohammed Awal, revealed that the Ministry of Business Development has seven initiatives this year.
These include the Presidential Pitch; the Student Entrepreneurship Initiative (SEI); Presidential Empowerment for Women Entrepreneurs with Disability, The Campus Pitch, Women Entrepreneurship, World Business Angels Investment Forum and the Presidential Business Support Programme.
The CEO of the NEIP, John Kumah, said the presidential disbursement provides a deliberate, systematic, integrated national policy instituted to support start-ups and small businesses.
He noted that the beneficiaries were selected from all 16 regions of the country.
The president launched the NEIP a year ago under the auspices of the Business Development Ministry to support and develop young businesses across the country, providing business development services, start-up incubators, and funding for young businesses to enable them to grow.