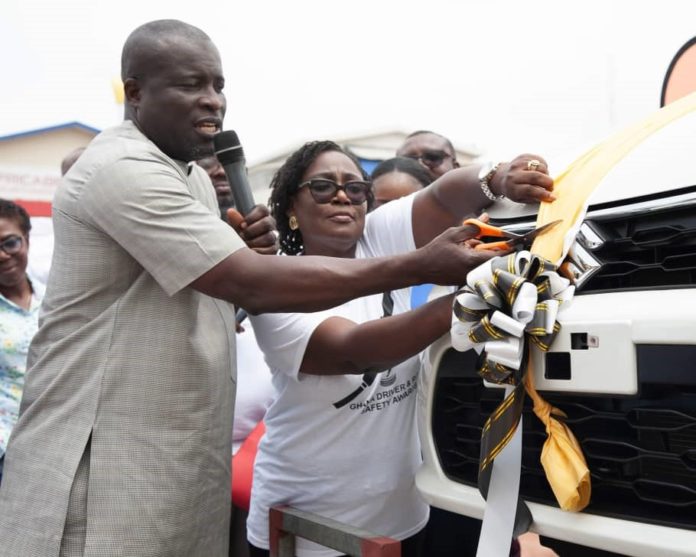 The 2019 edition of the Ghana Driver & Road Safety Awards has been launched in Accra, under the theme 'Rewarding Driving Excellence; Promoting Road safety', with a pledge by key stakeholders to collaborate on making Ghana's roads safer for all.
Speaking at the event, Titus Glover – Deputy Minister of Transport, commended organisers of the event for recognising the pivotal role played by drivers in the daily lives of Ghanaians. He urged drivers to go about their duties with dignity, adding that: "Driving is a noble profession; therefore, we need to value the contributions of our drivers".
Mr. Glover lauded the event's theme, noting that training and education for drivers is key to ensuring road safety in Ghana. He further bemoaned the lax attitude of some drivers toward training and education, adding: "The Ministry of Transport is taking this matter so seriously".
On her part, the Director of Partnerships of the Ghana Driver and Road Safety Awards (GDRSA), Madam Freda Frimpong, underscored the crucial role of driver-retraining for reducing road traffic accidents in the country. She also re-echoed the motivation for the Ghana Driver & Road Safety Awards, which is to use rewards and recognition to promote good driving conduct and raise road safety champions among drivers.
Madam Frimpong stressed that the 2019 awards programme will entail close interaction with drivers through activations at a number of commercial transport terminals. "The activations will provide an avenue for health screening, eye-checks, life-saving road safety education, as well as some instant prizes," she added.
The Executive Director of the National Road Safety Commission, Ing. Mrs. May Obiri-Yeboah, on her part hailed GOIL, GHACEM and Enterprise Insurance as well as other supporting sponsors of the 2019 programme for contributing to a worthy cause, and called on many more corporate organisations to come on board. She stressed that everyone is at risk directly or indirectly when our roads are unsafe.
The Ghana Driver & Road Safety Awards began in the year 2018, as parts of efforts by road safety partner organisations to halve road accidents by 2030. This year's edition comes with a number of novel additions – including a special 'Female Driver Category' to encourage more women to participate in the competition. The programme will also see some unlicenced commercial drivers being sponsored by Enterprise Insurance to be trained by driving schools and licenced by the Driver & Vehicle Licencing Authority.
Other speakers at the event included Mr. Marcus Deo-Dake of GOIL; Mr. Solomon Ayiah of Ghacem and Md. Vanessa Harding of Enterprise Insurance. The three pledged their organisations' commitment to road safety and the welfare of drivers and all Ghanaians.
Some drivers who attended the launch walked away with fuel coupons from GOIL and other souvenirs from sponsors for answering questions about road signs and safety on the road. GDRSA 2019 will climax in November, with the overall winner driving away a brand-new car. Several other drivers will win prizes on the way to the ultimate crown.