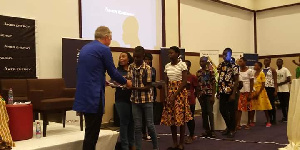 Two hundred students from coastal communities in the Western Region have benefitted from the Aker Energy-Ghana National Petroleum Corporation (GNPC) Scholars Programme for 2019/2020 academic year.
The coastal districts are Shama, Sekondi-Takoradi Metropolitan Assembly (STMA), Effia-Kwesimintsim, Ahanta West, Nzema East, Jomoro and Ellembelle
The Scholars Programme is presently the flagship social investment project of Aker Energy in partnership with GNPC. The programme started in 2012, and has to date benefitted almost 800 students.
Mr. Jan Helge Skogen, General Manager of Aker Energy – at the 8th cohort of beneficiaries' inauguration, explained that: "Last month, about 40 of the 120 beneficiaries who graduated from secondary school had 5 As in 8 subjects. Indeed, it is because of such high academic performance that Aker Energy and our partners are encouraged to continue supporting the scholars programme".
According to him, secondary education in Ghana is free; therefore, the scholarship package is made up of materials that students in boarding schools are required to provide on their own.
"Also, I acknowledge there are families that have financial challenges in providing these materials for their children. Therefore, Aker Energy and our partners are contributing our 'widow's mite' to support families and communities to educate children in secondary school."
He said: "We do this because we know the value of education to the growth and development of countries all over the world".
Mr. Skogen mentioned that Aker Energy has plans to develop a tertiary level scholarship, so that beneficiary students can look forward to continuing their education to the tertiary level.
He added that there were over 960 students competing for the 200 slots: "In addition to the academic requirements in selecting these 200 beneficiaries, we ensured there were gender, geographical and disability considerations. There are 108 females and 92 males, and two beneficiaries have a disability".
Mrs. Angela Tena Mensah, Director for Secondary Education at the Ministry of Education, advised the beneficiaries not to take the scholarships for granted.
"Many people would have loved to be in your shoes; take advantage of this opportunity you have today and work hard to achieve your dreams and aspirations," she added.
Education, she said, should be taken seriously by all, and advised parents and guardians of the beneficiaries to provide them their needs as well show a lot of concern in their academic work.
Mrs. Carmen Bruce Annan, Corporate Affairs Manager of Ghana National Petroleum Corporation (GNPC), advised the students to never stop learning.
"Take advantage of this opportunity and continue to learn; you have a responsibility to develop yourselves to become a better person that the society will look up to at all times," she said.
She congratulated the partners for their hard work and dedication to duty.
Kwabena Okyere Darko-Mensah, Western Region Minister, in address read for him encouraged the students to form study groups that will enhance learning.
"The Western Regional Coordinating Council (WRCC) will always support such programmes which have long-term effects for the region," he said.
He commended Aker/GNPC for complementing government's efforts in education, and urged the beneficiaries to take their studies seriously for a brighter future.
About Aker Energy
Aker Energy is an upstream petroleum company operating the Deepwater Tano/Cape Three Points oil block that is located offshore Ghana. We have a 50 percent participating interest in the Deepwater Tano Cape Three Points block, covering approximately 2,010 square kilometres in a prolific petroleum region approximately 70 miles offshore Ghana. Lukoil Overseas Ghana Tano Limited (38% interest), Ghana National Petroleum Corporation (10% interest) and Fueltrade Limited (2%interest).
Aker Energy's mission is to build the oil and gas operator of choice offshore Ghana by maturing resources in a safe, efficient and reliable manner, to the mutual benefit of company partners and the people of Ghana.
It is technically challenging to produce oil and gas in ultra-deep waters. However, as part of the Aker group – one of the leading oil and gas service conglomerates in the world, Aker Energy benefits from an extensive track-record, technical capabilities and sub-sea solutions required to extract oil and gas from the Ghanaian continental shelf to benefit Ghana.