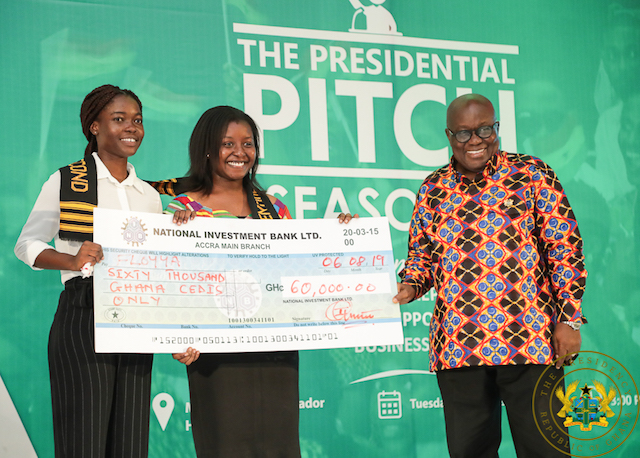 Founders of Fluoya Bana Sanitary pads, Emily Otoo Quayeson and Matilda Asantewaa Sampong, have been crowned winners of the second edition of the Presidential Pitch organised by the Business Development Ministry in partnership with the National Entrepreneurship and Innovation Plan (NEIP).
They won the grand prize of GH¢60,000 with an additional support of GH¢40,000 from President Nana Addo Dankwa Akufo-Addo.
Their initiative, the Fluoya Bana Pad, uses banana-fibre as a major component to produce the eco-friendly sanitary pads.
In an interview, Miss Quayeson – a final-year Civil Engineering student of the Kwame Nkrumah University of Science and Technology (KNUST), noted that the idea came up last year and they started the research and prototype to ascertain its durability. "The outcome was very positive and it works just as the normal pads, but the banana-fibre material is 50 percent more absorbent than chemical products used in regular sanitary pads," she added.
Her partner, a second-year Business Administration student – also of the Kwame Nkrumah University of Science and Technology, noted that the pads are eco-friendly because they are biodegradable and contain no plastic or other non-organic materials. She said: "The pads biodegrade into compost in just three months to six months in a landfill".
In all, 10 contestants were selected for the final stage of the competition. Cassava Noodles and Eazz foods took second and third place and walked away with GH¢40,000 and GH¢35,000 respectively. Winners from the 4th to 10th position also walked away with GH¢25,000 each.
According to Dr. Mohammed Awal, Business Development Minister, unlike last year the amount won by this year's contestants are grants; and in addition to that, the winners will receive free technical training and business advisory services.
In his remarks, President Nana Addo Dankwa Akufo-Addo noted that the grants given these winners represent a continuing demonstration of government's commitment to providing seed capital for some of the nation's enterprising youth to enable them run successful businesses.
He said: "Entrepreneurship is a vital component of economic growth, and has been embraced globally as one of the most important drivers of development. There is now firm recognition among governments and international organisations that the development of entrepreneurial talent is key to addressing the challenges of unemployment, especially youth unemployment".
President Akufo-Addo revealed that there are plans to attach winners of the Presidential Pitch to Ghanaian and international companies to help build their abilities to scale-up.
He assured contestants who did not win any prize that the ministry will continue finding ways of assisting them become more competent and enabled to compete in the global space.
President Akufo-Addo also urged young entrepreneurs to seize the opportunities which come with the Africa Continental Free Trade Agreement and the huge market it presents.
Also present was the Minister for Employment and Labour Relations, Ignatius Baffour Awuah – who donated GH¢10,000 to one of the winners who hails from his constituency, the Sunyani West constituency.
He said it is to support her business to create more employment opportunities for the women and youth in the area.
The Presidential Pitch is an annual event that offers young entrepreneurs below age 35 an opportunity to pitch their business ideas to a panel of experienced judges, out of which 10 are selected as winners and awarded amounts of between GH¢25,000 – GH¢60,000 in loan facilities.
The criteria for selecting beneficiaries are centred on feasibility, innovation, impact and scalability.